the-me-named-tory
FooMaster, member since May 17, 2009

344,951 StarPoints
465 friends

Buy FooDollars for the-me-named-tory as a gift!

5,357 forum posts
My FooPets
323 Fotos
11 years and 10 months old neutered male Tuxedo Mix
View Profile
Shop for the items in this scene
11 years and 7 months old neutered male Chihuahua
View Profile
Shop for the items in this scene
11 years and 4 months old neutered male Orange Mix
View Profile
Shop for the items in this scene
11 years and 10 months old spayed female Black Mix
View Profile
Shop for the items in this scene
11 years and 9 months old neutered male Yorkshire Terrier
View Profile
Shop for the items in this scene
10 years and 10 months old spayed female Long Haired Silver Tabby
View Profile
Shop for the items in this scene
10 years and 10 months old spayed female Bengal
View Profile
Shop for the items in this scene
11 years and 8 months old neutered male Himalayan
View Profile
Shop for the items in this scene
10 years and 9 months old spayed female Westie
View Profile
Shop for the items in this scene
10 years and 9 months old neutered male Siberian Husky
View Profile
Shop for the items in this scene
10 years and 7 months old spayed female Rottweiler
View Profile
Shop for the items in this scene
About me
Please do not read anything below unless you want horrible second-hand embarrassment. Saving for posterity xoxoxoxo
---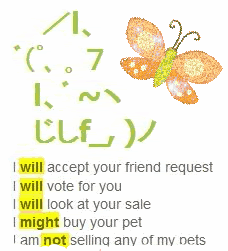 I do not bite, I accept all friend requests. I like making new friends, its fun. I will vote for you, just give me the link and the pet's name. But I might not vote you first, I will vote whoever I think is best in the show, so ask at your own risk. I'll take a look at your sale, but please don't ask me to ask everyone else. I love FooPets, if you have a pet for sale, I'll go look. I might tell my friends. Too many FooPets are left homeless, I want to help as much as I can. At the moment, I am not selling any of my pets. They each have a story, and I don't play this game to get profit like some people. I like the original objective of this game, to try to get a black star and care for little lost pets.
????????
THE ULTIMATE BEGINNERS GUIDE
This is why you shouldn't bump
This is the great secret of Pokeys
This is how to make breeding pictures of your pets
Free FooDollars? Oh, my!
This is how to post a picture.


This tells you to Please Stop Lying. ??
OMGGGGG!!!! MUST READ TO SAVE YOUR LIFE!!!
What did I sign up for??
Here are some cool Christmas animations
Someone took my pet, what do I do??
Some more useful stuff
???????????????id=1&page=1
Orders
None. I really should order something,
it looks so bare over here. Note to self:
order something like a picture or a pet
to make this look more interesting.
Looking After
Feel free to check up on these.
Allison
Shotzi
Gia
Silver Rain
Sherry Cherry
Zues
Spotted Leaf
Darkstripe
Dustpaw
Frostfur
About Me
Uh, yeah. I'm just, Tory. Okay….
My favorite color is deep purple. My favorite food is oranges. I love animals. I hate writing about myself. I have three cats, two dogs, a few ponies, and a pig. I want Pembroke Welsh Corgis to be the next FooPet. Note to self: make a banner for that. I am a straight A student. Not that I have ever even done any work or homework or studying at home, I just am. School is just too easy. I love drawing. I do it all the time. Everywhere. I only really like drawing and painting animals though, humans and buildings are boring. :) But you'll never see me post any of my artwork on here. Mostly because I think it looks terrible most of the time—though people tell me different—and I do not have a scanner. I read a lot too. I have three bookcases in my room of books I have read at least 10 ten each, most even more. Hehe. I can't get on FooPets during the day—don't ask—so you will only see me at night.
This is the weather and time of where I live.

Buying
If one of my pets are for sale, there will be the words "For Sale" next to their name. None of my pets are for sale at the moment, and the only one that I might sale is Carmel, though probably not. So please don't ask to buy my pets. Thank you.
???????????????
Tory's Secret information Bin—Information Is Not In It Yet
As of October.15.2009