bopertop-and-her-3
FooCadet, member since August 1, 2009

6,338 StarPoints
133 friends

Buy FooDollars for bopertop-and-her-3 as a gift!

845 forum posts
My FooPets
124 Fotos
12 years old female Jack Russell Terrier
View Profile
Shop for the items in this scene
Send bopertop-and-her-3 a breeding request
11 years and 1 month old male Yellow Labrador Mix
View Profile
Shop for the items in this scene
Send bopertop-and-her-3 a breeding request
10 years and 11 months old male Rottweiler
View Profile
Shop for the items in this scene
About me

I am a certified Foopets breeder!
My company is called: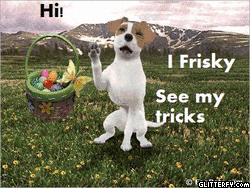 Yes, I babysit :)
Current reservations:
(2 are going to my friends)
-bigbadkitty (male pokey Rottweiler)
-ipodluver18 (Female Jack Russell)
-awesomepeep88 (Female Jack Russell)
-kanina003 (male pokey Rottweiler)
- Winterdaisy (Pokey Rotwiller)
Breeding with me
According to our rules, You must take wonderful care of the pups you revive. Once I accept your breeding request, you may put our Logo on our page. Golden Hill Dog Breeder will be checking on your dog everyday and if you are not there, we will proudly take care of your dog. We are very strict on where the puppies go, so you MUST choose a caring home to give the puppies to. The puppies must cost 25 for males and 30 for females. Golden Hill Dog Breeder reserves the right to not allow you to have the logo on your page. I may keep one of the puppies.
Buying from me
If you want to buy from me, you must be a caring pet parent.
Logos and Certificates
Golden Hill Dog Breeder offers Logos for your breeding and certificates to say you are a rule following breeder.
However, you have to be a caring breeder and read the breeding rules. If you have/are, I will make the logo/ certificate.
Thank you!
Friendship
I will accept all friendship.
Messages
I do not accept chainmail. I will delete it if you paste it on my page. Also no begging of ANY kind.
Current shows I'm in:
-
-
-
Shows I won:
-
-
-
I am currently looking for a dog and a cat.
Price requirements
FD Requirement: No more than 20 FD.
FG Requirement: Currently 5000 FG..
Feel free to buy ANYTHING from my scenes.
If I have any collectibles, I can trade for something of equal value.
INCLUDING LICENSES.
Name: bopertop Birthdate/age: 50 how many pets: 1 have u breaded before: Once how many friends: 119 Member sence 8/3/09 expires 8/3/10

<font>Add Glitter to your Photos</font>


Send licensehotlotosizler a message | Delete