Cantaloop
FooGuardian, member since April 20, 2011

196,800 StarPoints
23 friends

Buy FooDollars for Cantaloop as a gift!

261 forum posts
My FooPets
209 Fotos
About me
Purebred Cat Breeding Club (PCBC)
Welcome to the Purebred Cat Breeding Club.
The PCBC is the oldest active cat breeding club on FooPets and was founded to give the cats on FooPets the attention they deserve.

Together with the PDBC (the Purebred Dog Breeding Club) we have formed the PPBC:
The Purebred Pet Breeding Cooperation.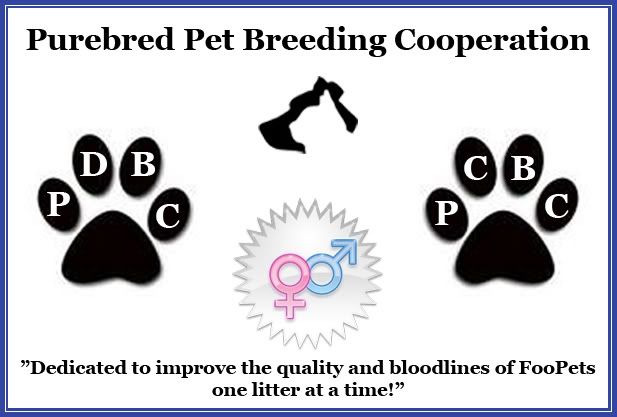 The main goal of the PPBC is to improve the stat quality and bloodlines of cats and dogs on FooPets.
We help members to find suitable breeding partners, and encourage our members to breed only purebred and high stat cats and dogs.

Each of our officers is assigned particular breeds – the entire list of PPBC officers of both cat and dog breeds can be found on the PPBC account.


I'm officer of the Bengals in the PCBC.




At the PCBC we have a long list of high quality breeding partners, which can be found on the profiles of the officers.
We also offer our members a way to advertise their weaned PCBC bred kittens, that they want to find new homes for.

If you are interested in joining the PCBC and register your purebred highstat cats, please take some time to read over the rules for Membership of the PCBC and fill out the Membership Form for each cat to register.

You can either send separate forms to the officers assigned the breeds of your cats (the list of PCBC officers and their assigned breeds can be found below) or post the forms in our PCBC Membership Thread where you can apply for registration of all cat breeds in one post.

We hope, you'll consider becoming a member of the PCBC.


Rules of the PCBC
1) Prospective members must have a StarPoints level of FooCadet (at least 5,000 StarPoints). This is to ensure that you are or are on your way to becoming an established member on FooPets.
2) As a member you will be expected to care for your pets regularly. Though there are extenuating circumstances that may prevent you from being every single day, we do expect that non care will not become habitual. If over time you are found not caring for your pets for extended amounts of time, and we have contacted you about the situation without improvement, we reserve the right to remove you from the club for this reason. That being said, we will check care history periodically to confirm that you are in fact a responsible owner.
3) In order to be approved for membership, you must own a purebred cat or kitten. To be considered a purebred, your cat must be either first generation or its entire bloodline (up to the first generation) must be the same breed.
4) To be considered for approval, all purebred cats must have at least three green stats or higher. There are no exceptions to this, as we strive to breed the highest stat pets possible. Cats currently engaged in mixed breeding can't be registered in the PCBC until the kittens are weaned. Hold your application until then. Spayed or neutered cats can't be registered in the PCBC.
5) Upon membership, you are agreeing to only breed your registered cats with other purebred cats of the same breed. To ensure your kittens are of high stat we urge you to breed your cat with other equally or higher stated purebred cats. (This is just our suggestion, the final decision will always be left to you).
6) If accepted for membership, we ask that you place our logo somewhere on your profile page. We also ask that you place the same logo within the accepted cat's profile.
7) If your cat is under a year old at the time of registration, he/she will be put on a waiting list and will remain on that list until it reaches the appropriate breeding age.
8) If you decide to sell or transfer your registered cat to a new owner, you are obligated to remove the PCBC logo from the cat's profile and contact the appropriate officer that governs that breed. All registered cats that change owners will be removed from the club. If the new owner wishes to keep the cat registered with us, they will need to apply for membership themselves.
9) As a member of the PCBC you are obligated to contact the appropriate officer that governs that breed to notify them of any of the following changes to your registered cat: – age acceleration of registered kitten – when you start a new breeding with your registered cat and when the kittens are weaned – if you spay or neuter a registered cat (and thereby unregister the cat). All officers abide by these rules and are held to the standards within. All members will be expected to do the same.


PCBC Membership Form

Username:
StarPoints:
Why would you like to join the PCBC?
Have you read and understood the rules of the PCBC? (Failure to follow the rules of the PCBC may result in suspension from the club)
For each cat to register:
What breed is your Purebred Cat?
Purebred Cat's link 1:
Purebred Cat's Name:
Purebred Cat's Gender:
How many green stats does your Purebred Cat have?
Purebred Cat's stat total 1:
Purebred Cat's Date of Birth:
Is your Purebred Cat currently breeding?
If currently breeding – link to Family Page 1:
1: Not required, but appriciated :o)
You can either send the filled form to the appropriate officer or post the filled form with cats of any breed in this thread: /topics/show/2302011?forum_id=33

PCBC officers
Click on name of officer or picture of breed to go to profile of the appropriate officer.


MrsEthena:


Foo-Hannah2:



Pumpkinz-:



KuddlesTheKitten:



Snowflake039:


Shypups


Cantaloop

Lovin-HeYa:





Member:
<a href="MrsEthena/member/14811952">MrsEthena

| <a href="Felix/pet/11487684">Felix | 5/5 – 625 | April 26, 2010 | Not breeding

Member:
<a href="Elena2204/member/23091066">Elena2204

| <a href="Sirius/pet/11457531">Sirius | 5/5 – 656 | April 10, 2010 | Not Breeding

| <a href="Mystique/pet/11446213">Mystique | 5/5 – 687 | April 10, 2010 | Not Breeding

| <a href="Kate/pet/11424357">Kate | 5/5 – 657 | September 4, 2010 | Not Breeding

| <a href="Leopold/pet/11448941">Leopold | 5/5 – 643 | October 25, 2010 | Not Breeding

Member:
<a href="Foo-Hannah2/member/20531010">Foo-Hannah2

| <a href="Beans/pet/11447517">Beans | 5/5 – 606 | May 14, 2010 | Not Breeding

Member:
<a href="Rrdy540/member/20470549">Rrdy540

| <a href="MISTY/pet/11440911">MISTY | 5/5 – 652 | December 11, 2009 | Not Breeding

Member:
<a href="Critterlover2/member/21432246">Critterlover2

| http://www.foopets.com/pet/11285146">Dayita Critter | 4/5 – 522 | July 20, 2010 | Not breeding

| http://www.foopets.com/pet/11332270">Suken Critter | 4/5 – 518 | Aug 20, 2010 | Not breeding

Member:
<a href="TygerStar/member/19319026">TygerStar

| <a href="Suzy/pet/8227874">Suzy | 4/5 – 523 | March 10, 2009 | Not breeding

Member:
<a href="AngelEyesCats/member/25118896">AngelEyesCats

| <a href="Chitta/pet/11440277">Chitta | 5/5 – 615 | October 13 2010 | Not breeding

| <a href="Hemm/pet/11446390">Hemm | 5/5 – 618 | October 21, 2010 | Not breeding

Member:
<a href="MaRyJaNe1981/member/19716943">MaRyJaNe1981

| http://www.foopets.com/pet/11430649">King George | 5/5 – 663 | January 30, 2010 | Not Breeding

Member:
<a href="Blue-Eleven/member/20944077">Blue-Eleven

| <a href="Dare/pet/11856604">Dare | 5/5 – 598 | January 21, 2011| Not Breeding


Member:
L0V3-TH3-L0RD

| Sarah | 5/5-579 | January 26,2011 | Not Breeding

| Abraham | 5/5-605 | May 14,2012 | Not Breeding
Member:
<a href="Pumpkinz-/member/25085648">Pumpkinz-

| Moiaic | 5/5 – 615 | June 26, 2012| Not Breeding


Cantaloop is ready to breed
with 10 litter licenses