SeafleurKennels
FooGuru, member since July 20, 2012

4,264,628 StarPoints
53 friends

Buy FooDollars for SeafleurKennels as a gift!

1,838 forum posts
My FooPets
235 Fotos
About me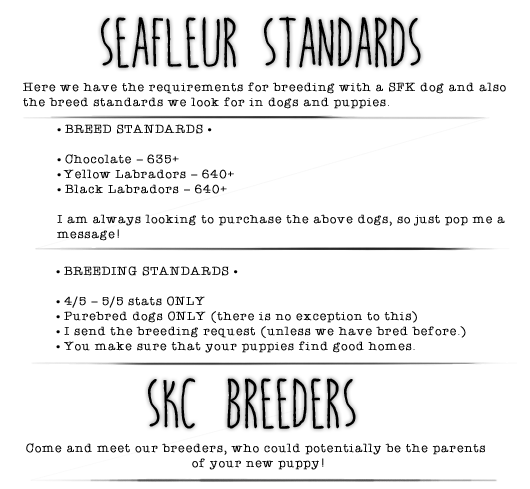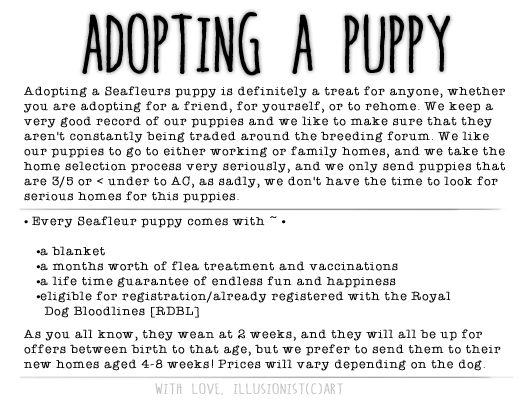 Dogs in their new homes ~
SK Roll On 2015 (Formerly Phoebe ; 88% ; 647)
Set up your own Labrador kennel today!
OLD PROFILE WILL BE HERE FOR A WHILE


Hallo there! Welcome to Seafleur Kennels, we are a small kennels, run by myself, Skye aka. Skyzee. We are going to be breeding high quality puppies for breeding/selling purposes. We are situated in the foggy state of Devon, right next to the Sea, so all our puppies get regular fresh air and time to play by the Sea. Currently we are going to be focusing on breeding Black Labradors, Chocolate Labradors and Yellow Labradors.


Every dog at our kennels is valued as a breeder, and as a pet, and I'd like to ensure that everyone reading this knows that none of my dogs are for sale unless advertised in the breeding forums or advertised upon their profile.



Here at Seafleurs, we like to ensure that all our puppies go to the best possible homes. To do this, I will inspect every potential home for a puppy, and I will make sure that I am comfortable sending him/her to that home. We prefer to send our lower stat puppies to forever homes and we like to send all our high quality puppies too breeding/working homes, as we wouldn't want to waste any of their potential! So when buying a puppy, you must clearly state what you intend on doing with him/her!
TOP QUALITY BREEDERS IN THEIR NEW HOMES
Formerly SK FJORNIR 642 pedigree black lab, rehomed aged 12 weeks.
Here we have the requirements for breeding with a SFK dog and also the breed standards we look for in dogs and puppies.


☼ BREED STANDARDS ☼
▼ Chocolate – 635+
▼ Yellow Labradors – 640+
▼ Black Labradors – 640+
I am always looking to purchase the above dogs, so just pop me a message!

☼ BREEDING STANDARDS ☼
▼ 4/5 – 5/5 stats ONLY
▲ Purebred dogs ONLY (there is no exception to this)
▼ I send the breeding request (unless we have bred before.)
▲ You make sure that your puppies find good homes.


Come and meet our breeders, who could potentially be the parents of your new puppy!
☼ Black Labradors ☼
SK Isabelle 660 stats - 90% ON THE SUPERSTARS LIST
SK Phoebe 647 stats - 88%
SK Tambi 645 stats - 87%
SK Elena 644 stats - 87%
SK Olivia 644 stats - 87%
SK Will 645 stats - 87%
SK Theo 641 stats - 87%
SK Archie 635 stats - 86%
Please message me about breeding with any of the above!

Keep checking here for more information on Seafleur litters, and message me to make litter reservations. This will have past and present breedings as a record of all of my litters.
LITTERS BELOW HAVE ENDED, MESSAGE ME FOR INFO ON CURRENT LITTERS
☼*BLACK LABRADOR LITTERS DUE*☼
We have two Black Labrador litters due at the start of April '14, they have stunning parents and will surely have some good stats!
SFK Holly x SFK Matthew
Litter can be viewed here.
SFK Elena x Maxiln's Traven
Litter can be viewed here


Adopting a Seafleurs puppy is definitely a treat for anyone, whether you are adopting for a friend, for yourself, or to rehome. We keep a very good record of our puppies and we like to make sure that they aren't constantly being traded around the breeding forum. We like our puppies to go to either working or family homes, and we take the home selection process very seriously, and we only send puppies that are 3/5 or < under to AC, as sadly, we don't have the time to look for serious homes for this puppies.


☼ Every Seafleur puppy comes with ~ ☼
a blanket
a months worth of flea treatment and vaccinations
a life time guarantee of endless fun and happiness
eligible for registration/already registered with the Royal Dog Bloodlines [RDBL]
As you all know, they wean at 2 weeks, and they will all be up for offers between birth to that age, but we prefer to send them to their new homes aged 4-8 weeks! Prices will vary depending on the dog.

SeafleurKennels is ready to breed
with 11 litter licenses