Kevs-woman-MMRK
FooMystic, member since November 15, 2014

1,034,428 StarPoints
84 friends

Buy FooDollars for Kevs-woman-MMRK as a gift!

548 forum posts
My FooPets
70 Fotos
About me

If you would like to see whats new please go here:
I will post ANY new litters, breedings and available pups in this forum so please check back often.
Hello and welcome to Mush Momma Racing Kennels.
Where we strive to breed and raise Purebred Dogs. All puppies are house trained and socialized to their fullest extent. They are all started with harness work, SaR, and Schutzhund. We ONLY breed purebred dogs NO mixed breeds!!! Each puppy born at MMRK will come with our logo, you do not need to keep it in their profile, the logo has been edited so if you click on the image it takes you to my profile. Please DO NOT steal or copy my images they are copywrites and I have full access to them you do NOT! If you are rude I have the right to report you for your behavior. Lets all get along. Now that we have the problems out of the way please enjoy my forum.
Meet The Musher.
My name is Jessie I am 29 years old, married with two wonderful little boys!!! I am an old foo user from '09-'11 before it was pay to play. I had many wonderful pets that I adored and it hit hard when I had to leave :( but I am back now and plan to stay! I am very friendly and outgoing I love anything outdoors!! Like my kennel name I am a musher! I drive a team of dogs in the snow or on dirt with a number of outfits ie. sled, bike, scooter, atv, and cart. I currently have dogs on the team two leaders, two swing dogs and two wheel dogs as they are called. No they are not like the dogs from snowdogs or eight below they are called Alaskan Huskies which is a mix of dogs that love to pull!! Gus (catahula mix) and T3 (Alaskan mix) are my main leaders, Angel (Alaskan mix) and Sprocket (pit mix) are my swing dogs Maverick and Simmons (heeler husky mixes, the Alaskans) are my wheel boys. I got into dog sledding by using a runner sled (look it up if you dont know what it is) and horse tack (halters for harnesses and breast collars for gang lines) We hooked Gus and Sprocket up and had them chase the atv to lean to pull crazy but so much fun!!
Racing
I love to go to the dog races!!! Watching big teams leave the chute is sooo crazy!! I have done 3 dryland races and 2 sled races so far in my carrer. Logan race which is in Utah in March (sled) Park City dryland also in Utah and West Yellow Stone Rodeo Run all super fun races and amazing people!! I am not very compettive I like to race for the red Lantern its an honor for me to be able to get that award even though it is last place. If you do not know the history about the red lantern please look it up it is an amazing story of true honnor and perseverance.

© to the artist Thank you for letting me use this!

Rules
(yes thats right I do have a few rules please respect them.)
(1) I will no longer accept ANY friend requests! If we are not breeding, doing business, never talked or i dont know who you are in RL. PLEASE do not send me a request.
(2) NO my remaining Legacies WILL NEVER be for sale! DONT ask!!
(3) I will not buy from your sales! I work hard for my foomoney that means you should too!
(4) I will not buy your pets! I have plenty of my own. Unless you have an amazing pet that i am looking for please do not ask!
(5) Iv decided not to vote for ANY pets in ANY shows.
(6) Please do not threaten me with something you do not know the whole story to because sometimes stories are told and you have to get all the info before attacking people. Iv had this happen many times and now if a threat message is sent i will automatically photo the picture, get info needed to prove what has happened, block you and then finally report you for being so disrespectful.
Breeding/Reserving Rules
Since there is so much over-breeding, I am no longer accepting breeding requests , unless you have a purebred with an exceptional Stat Score. If you have a pup that meets this criteria and would like to set up a breeding, please contact me. I will provide my own Litter License UNLESS your dog has an amazingly high stat score in which case i will supply YOU with a LL. Any other requests will be ignored, unless we have arranged something previously.

I will only accept fds NOT fgs please do not ask!. Please do not beg for my pets it makes you look like a fool, if I dont want you to have one of these pups it is MY decision not yours!

• Your dog must be the same breed as mine. I ONLY breed pure bred.
• Your dog must be the same stats or higher then mine.
• Must be a low generation meaning 1-2 generation is as high as I will go.
• Must have your OWN LL.s

To have the oppertunity to buy one of my pups, you must have one of these stars:



.
(Thats right karma counts!

)
I will not sell my pups to Foobies (
) or FooApprentices (
). (you are too new and dont know what you are getting into)
Mature & Responsible FooCadets (
) may qualify, depending on the interview.

For my own personal breeding stock, I am currently keeping:

GERMAN SHEPHERDS


- ALL 5/5 pups with Stat Scores over 725
- ANY pup with a Stat Score over 720

SIBERIAN HUSKIES


- ALL 5/5 pups with Stat Scores over 630
- ANY pup with a Stat Score over 625

RED HUSKIES


- ALL 5/5 pups with Stat Scores over 610
- ANY pup with a Stat Score over 615

SHIBA INUS


- ALL 5/5 pups with Stat Scores over 620
- ANY pup with a Stat Score over 615

All reservations are final.

I reserve the right to refuse sale to anyone who I consider not great enough for ownership.

Available for Breeding:
Please Check Breeding Fourm
Current Litters:

Siberian Husky

German Shepherd
Pets on Reserve for Me:
None at the current moment.

Legacies that I owned:
PLEASE DO NOT MESSAGE THESE PLAYERS FOR THEIR PETS!!
Mr. Blueberry LPHM Sadly deleted!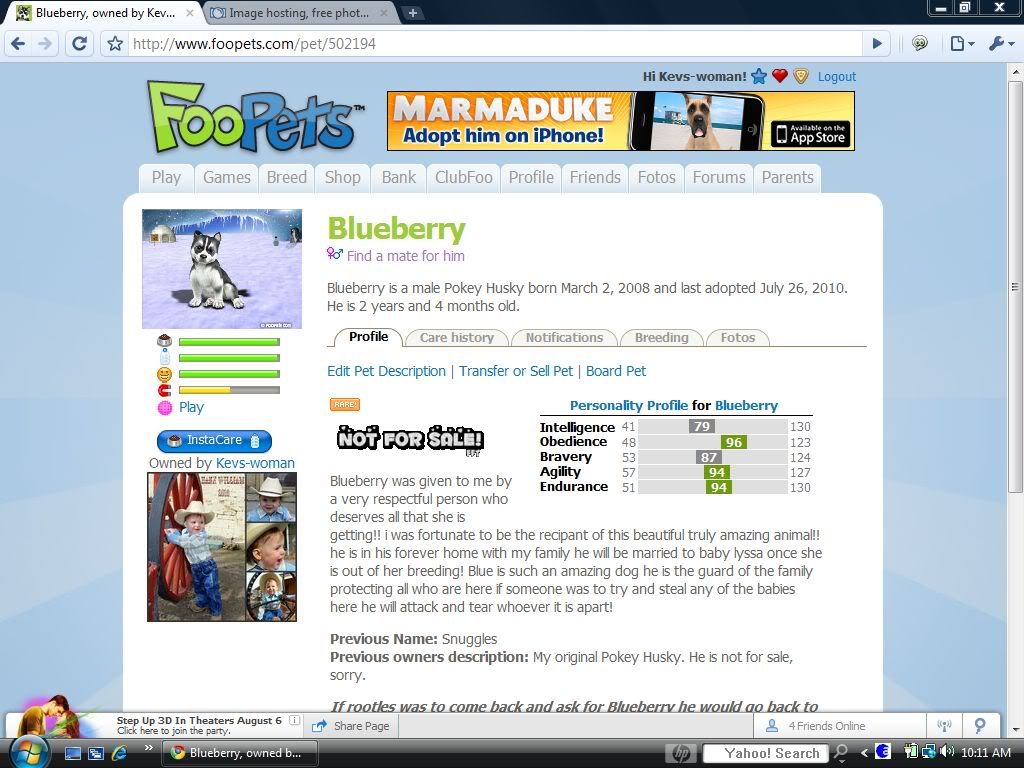 Sasha LPRF
Sadie Bear LPCLF In a happy home!
Peaches LPYLF In a happy home!
Daisy Duke LPCLF In a happy home!
Dylan Oddstat In a happy home!
Dozer LPRM In a happy home!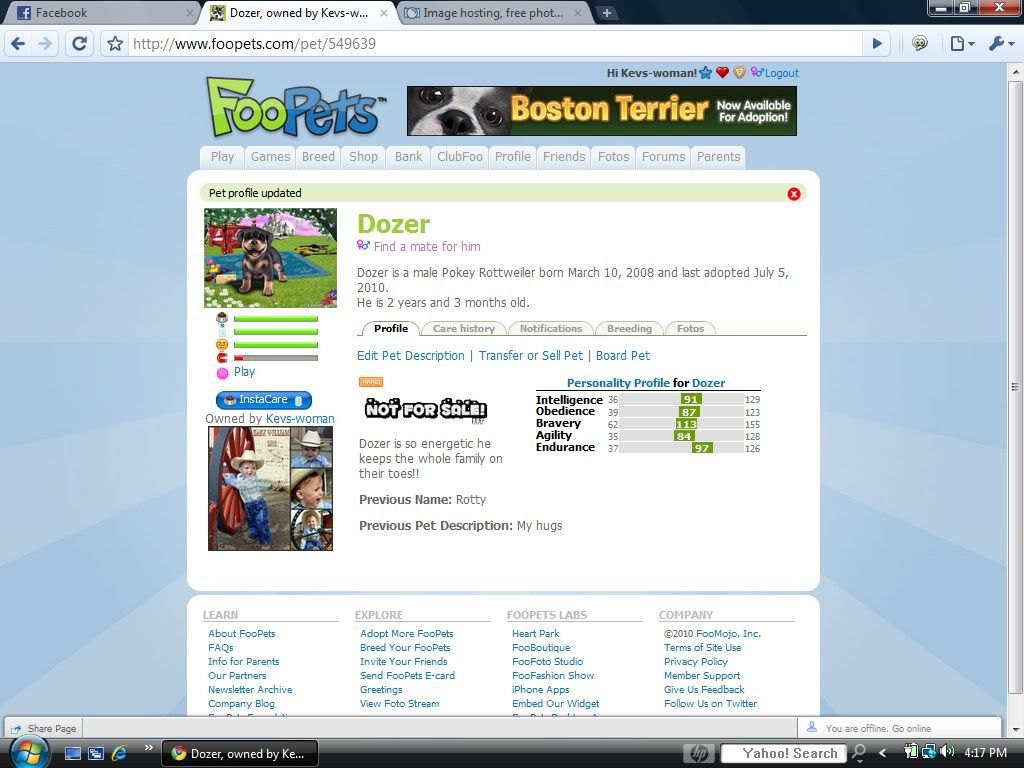 Razor LPBLM
Katey-Lou LPYLF In a happy home!
Jasper LPRM In a happy home!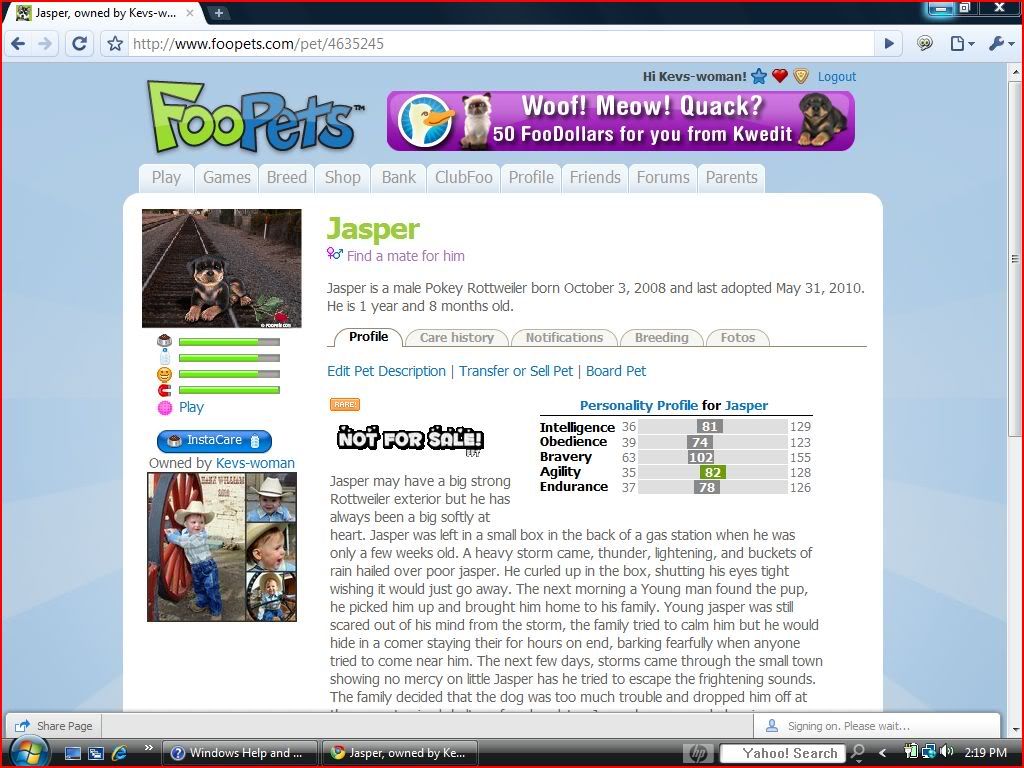 Oliver LPGSDM In a happy home!
Baby Lyssa LPHF In a happy home!
_I had many more legacies but sadly some were given to other players and their accounts were deleted and in turn the legacies were deleted :'( _

Things to remember
Stat Guide
Lostie Pricing
Textile Markup Guide
Mart Play Page
Stat Total Calaculating Guide
Ultra Pet Guide
Rare Pet Guide
PDBC Forum
Mass List of Kennels & Breeders
• Born April Fool's Day (April 1), Accelerate On March 18
• Born Independence Day (July 4), Accelerate On June 20
• Born Halloween (October 31), Accelerate On October 17
• Born Christmas Eve (December 24), Accelerate On December 10
• Born Christmas (December 25), Accelerate On December 11
Born New Years Eve (December 31), Accelerate on December 17
Born New Years Day (January 1), Accelerate on December 18
Legacy ID cutoff- 4811000
Legacy Birthday cutoff- must be born before July 31, 2008 if ID is after 4811000

 I am not interested in buying ANYTHING from your Sale. I don't want to buy your pet(s) (I have plenty of my own already, if you havent noticed). I will NOT give you a Litter License or any of my pups I do not GIVE I sell and if you do not like that please take your business elsewhere, I will not sell them for FooGems either.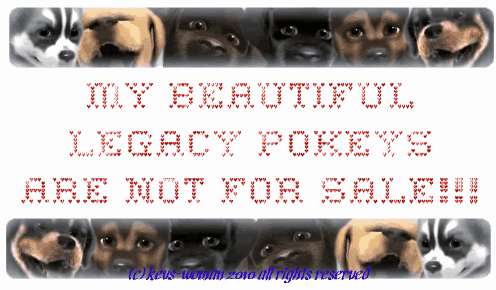 Thank you Sandy-D
I am a previous foopet lover from back in 2009-2011 I stopped as soon as they started charging people to play with these wonderful virtual pets!!!! I had numerous 1st gen. Pokeys and I am trying to find them once again! My previous account name was Kevs-woman-DDK
Join me on another great fun game Here!


Kevs-woman-MMRK is ready to breed
with 2 litter licenses