352-FooVille-Lane
FooMystic, member since May 9, 2008

1,679,363 StarPoints
58 friends

Buy FooDollars for 352-FooVille-Lane as a gift!

4 forum posts
My FooPets
993 Fotos
About me
Treat others like you would like them to treat you and yours!
Babes I gifted just from 11/19-5/20 ~Not gifting anymore
Dasher Binx Itsu Elettra Penguin Rain Loki Star Mazy Max
For those who were not here in the merge from facebook to here.
To protect our account's from being harassed for our legacies.
Simple guide we were told to use.
1. Change username
2. Remove pics taken, or do not take any
Don't link to facebook. (will come up on google search)
3. Never use real names/location
4. Block anyone who message's on facebook asking for your legacy.
5. Report person to FooMojo support.
I have followed this since the day we were told. Why mine have no pictures, just got used to it and will remain.
(ignoring that now @11-2019 since we don't know when foo is ending)
GoPokey Facebook


Pretty simple just feed, play with and pet your pokey.


Collecting as many bones as you can come's in handy as you purchase
your food and adopt another pet. How do you earn bones? You can earn bones by playing with your pet & also by feeding & playing with the hungry pups. Its easy to earn hundreds of bones by petting pups that needs attention.

To take care of your pets here on the icons that you can choose below, either to throw the frisbee/ball, or play fetch, then feed & or water your pet.
Fetch command is where you instruct your pet to fetch the bone that was lying on the far side of his/her space.

Throw ball/frisbee command is where you get to play with your pet. If they get to catch the ball/frisbee (it depends on the breed of the dog which toy they will be getting, frisbee – big dogs, ball – small dogs), you will be able to earn bones (if he/she is able to fetch it, if not you will lose a bone). So, if you wanted to test your luck then go ahead & play with your pup! :0-)
Dear Pokey Users We Screwed Up: December 26, 2008
This link highlights the mess up that happened to our Pokey pets.
---
Here kitty kitty! FooMojo launches virtual pets game FooPets
Dean Takahashi December 17, 2008 5:30 AM


Virtual pets have a big presence in the digital world, from the little Tamagotchi gadgets to the popular Nintendogs game on the Nintendo DS. Now FooMojo is entering the fray with the most realistic interactive virtual pets introduced to date.
The Redwood City, Calif. company has been testing its approach with the Pokey virtual pet dog application launched on Facebook earlier this year. Now it's introducing FooPets.com, a web site based on quite lifelike puppies and kittens.
The idea is to provide people with virtual companions who behave the way real pets do and to educate people about how to properly take care of pets. You have to take them to the kennel if you plan to be away for a while. You have to take care of their flea infestations and worms or consequences will ensue. You can play with them in living rooms, backyards, or walk them through little obstacle courses.


While many pet games use cartoon-like animation (such as Moshi Monsters), FooPets is shooting for animals that look, move and breathe as if they're real. The pets are emotionally engaging, develop their own personalities and reacting to the way you treat them. If you treat them well, they'll live normal pet lifespans and present challenges; if you don't feed them, they become scrawny and eventually die.
The idea is to expand the virtual pets market from kids to all ages. The market is proven in many ways. Nintendo's semi-realistic Nintendogs game has sold more than 20 million copies worldwide on the Nintendo DS, generating something like $600 million in revenue (I've always wondered why the company never came out with a Nintencats). The Tamagotchi virtual pets, which have very simple animations, have sold more than 70 million units since 1996.


The Pokey virtual puppy application has gained more than a million active users since its introduction in February. Now the company is adding kittens for the first time. The software is web-based and so you can access your pets from Facebook, MySpace, the iPhone, or the FooPets site. Active users have been checking up on their pets about two or three times a day. About 85 percent of users are female, which means the game is tapping into people who normally aren't the biggest hardcore game fans.
Ron Hornbaker, founder and chief executive, notes that people now spend over a quarter of their waking hours on the web and that they need as much companionship there as they do in real life.
Owners receive FooPet currency, called FooDollars, that can be used to buy food, pet accessories, and pet services in the virtual world. Owners can decorate a pet's habitat, teach it tricks, take pictures of it and show it off to friends. They can even ask questions about proper care on forums.


The company will add new pet breeds over time. Hornbaker, a veterinarian who became a serial entrepreneur, founded the company in 2007. Hornbaker's previous companies include Book Crossing, Propsmart.com, and Statsaholic.com. He has hired artists from Pixar, DreamWorks, Lucas Films, and George Lucas's Industrial Light & Magic.
The company is working with animal-related charities such as the ASPCA and the Humane Society. Users can make donations to the groups directly from the applications.
The business model is product placement. In a particularly good marketing deal that taps into the $41 billion U.S. pet goods market, FooMojo has signed Nestle Purina Petcare as the food sponsor inside the virtual pets world. The Switzerland-based subsidiary of Nestle has paid FooMojo an undisclosed amount for the right to advertise its Purina Dog Chow and other products in the world. In Europe, pet food maker Pedigree is the food brand sponsor.
FooMojo also signed up the Twentieth Century Fox film studio as a sponsor, since it's releasing Marley & Me, a movie featuring a family dog, on December 25. These marketing deals are helping to finance the game. The virtual pets are free, except for the Marley & Me pet application that will be available for a small fee on the iPhone starting Dec. 17.
Investors include Softbank Capital, Softbank Corp. Japan, Mike Maples, Ron Conway and Baseline Ventures. The company has raised about $10.7 million in two rounds of funding, including a $9.9 million round in September from Softbank and Softbank Corp. of Japan. Hornbaker said the deal closed a week before the financial meltdown and so he considers himself extremely lucky and well financed. The company has 22 employees.
Jun 2, 2009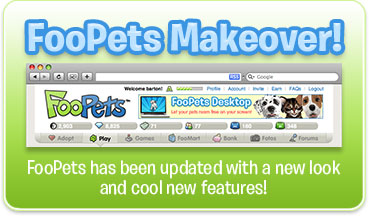 So what are these new changes? There are so many! We'll give you a couple of hints. No more mystery feeders. Your closest friends will rise to the top.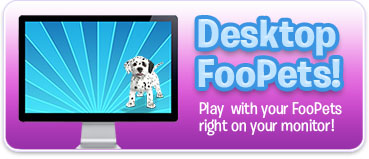 Go to the desktop app/now disabled, look online for free download under same title.
Download adobe Air 2.0 or 2.5 prior to desktop app.
Never update Air if you want it to work.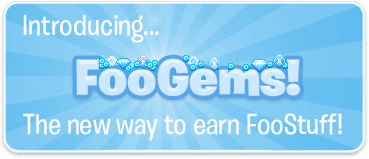 Go to the Faq

Dr. Ron's FooCare Tip
The new Health, Hunger and Happiness meters show the status of your FooPets in the following color/level indicators:
"Green" = Great
"Yellow" = Good
"Orange" = Fair
"Red" = Poor
It's best to keep in the green to yellow range, but if you want to know the exact percentage just rollover the individual meters.
Jun 19, 2009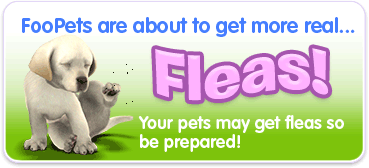 Go to Mart

Use your FooGems and stock up on preventive flea care products today! Visit the FooMart today!
Dr. Ron's FooCare Tip
Our amazingly realistic pets are built from about 280 short movie files each, which is quite a download for your browser. The Safari browser has a bug which prevents caching of large (bigger than 200 KB) files, so for the 2% of you using Safari, you may want to consider Firefox as a faster alternative on FooPets.
Regardless, we recognize that this big download process takes time and makes the pets load and respond slowly, and solving the "slow problem" is our number one priority behind the scenes at FooPets. We'll have some exciting news to share next week about a faster loading process we have had in development for a few months now, so stay tuned as we roll that out to beta!
Jul 1, 2009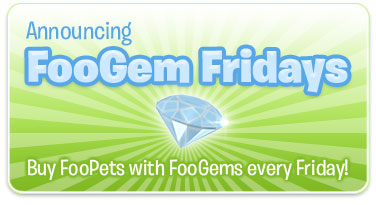 FooGem Fridays last from 12:01 a.m. to midnight (PDT). Don't delay!
Dr. Ron's FooCare Tip
Snapshots taken of your FooPet now show up on your Facebook Wall and your friends' home pages – try it out by taking pictures of your pets and make sure you check the box next to "Post snapshots to my Facebook wall."
Jul 21, 2009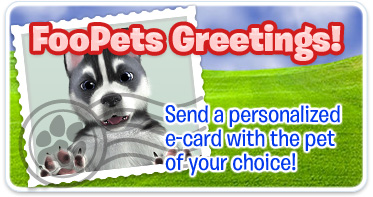 Go to make a Greeting card

They're fun, free, easy to make and anyone with an email can receive one! Send a FooPets E-Card now!
Jul 31, 2009
Create Your FooPets Family Tree!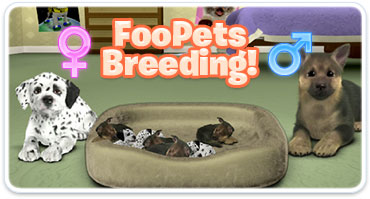 Go to Breeding page

Make FooPet babies with a friend, care for the litter, then optionally sell them for a profit! Learn more about Breeding. Starting today, you can pair up FooPets of your own or with your friends and watch them as they make new FooPet babies! Then you can optionally sell the puppies or kittens after they're weaned, and stay connected while creating your own FooPets family tree. The babies are ultra-cute – check them out!
Dr. Ron's FooCare Tip
"Breeding FooPets is a big commitment and responsibility for you and your breeding partner. Make sure you discuss and agree on how you are going to manage the new litter before you start the breeding process, and be sure to read all the rules on the Breeding Information page. You'll see on that page that we're going to start enforcing strict penalties for neglectful FooPet owners, starting with bad breeders, so breed responsibly!"
Aug 12, 2009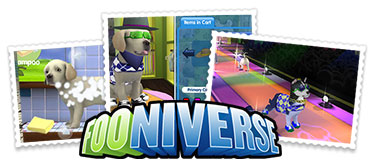 Go to Fooniverse

You've never seen FooPets like this before! Come enter the Fooniverse, where your pets will look a little less "real" but will be more animated and have tons to do! In the Fooniverse, you can dress up your FooPets with designer clothes and accessories in the FooBoutique, snap pics of them with your friends' FooPets in the FooFoto Studio, give them sudsy baths and blow dries in the FooGroomer game, and enter FooFashion Shows for fun and FooDollar profit!
Dr. Ron's FooCare Tip
IMPORTANT NEWS! Shortly after the first litters of baby FooPets are born this Friday, we're going to start a new policy of taking FooPets away from negligent owners. All owners will get at least 3 warning notifications, sent each time the FooSamaritan has to step in and perform a rescue care session.
This warning period will last at least 1 week. If the warnings are ignored and nobody is caring for the FooPet(s), the owner will be penalized FooKarma, dropping down to the start of his or her next-lower level, and the FooPet(s) will be put in the Shelter, where their owner can re-claim them during a 1-week holding period by paying a FooDollar or FooGem fine.
After the 1-week holding period is over, un-claimed pets will be offered up for adoption to other members. Be responsible! If you can't check on and feed your FooPets temporarily, ask your friends or forum members to help out!
Aug 19, 2009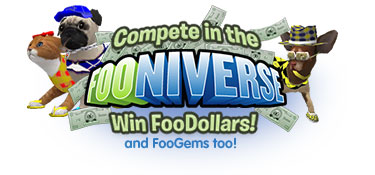 FooFashion Shows are a great way to show off your pet personality but they can also be quite lucrative! Currently the shows are paying out 20, 12 and 8 FooDollars to the top three contestants so get in there and win! Visit the Fooniverse, and enter FooFashion Shows for fun and FooDollar profit!
Dr. Ron's FooCare Tip
Pet Personality Profiles have been introduced on FooPets with the intention of offering a new dynamic to the pet breeding experience. Each attribute has a meter indicating the range of scores within that breed and a number in between that indicates where your pet falls within that range. This inherited genetic score will be the value that is passed on to its offspring. However, you will eventually be able to improve your pets attributes based on the way that you train and care for your pet.


Sep 15, 2009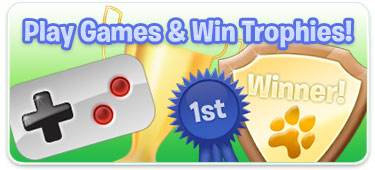 Go to the Arcade

Come check out our new puzzle and arcade games! Win FooGems and compete for a place on our leaderboard of top players. Trophies will be awarded daily, so start practicing today!
User to User Sales!



Did you know that your old assets or rare items may have increased in value since you bought them? You can now create your own FooMart right from your 'Inventory' tab located in your profile. Click the 'Sell this item' button next to the asset you want to sell. Set your price put it on 'Sale.' Visitors can purchase your items right from your 'Sale' tab. Start selling now!
Dr. Ron's FooCare Tip
"Later this week we will be introducing a new 'Pet Boarding' feature to FooPets. We know it can be impossible sometimes to check in daily, so this will provide a way to ensure your FooPet remains cared for in your absence. Just like in the real world when you go on vacation and can't take your pets along, you'll soon be able to leave your FooPets in the care of the FooKennel!"
Sep 23, 2009


The option to spay or neuter your FooPet has been added to your pet profiles under 'Breeding.' Please read the FAQ's for more information.


Our FooKennel is now available. On your pet profile you now have the option to board your pet up to 21 days. Please read the FAQ's for more information.
Dr. Ron's FooCare Tip (Pokey pets turned into Foopets once sent to shelter)
"Neglected FooPets are being taken to the FooShelter's holding center where pet owners can retrieve them for a fee. Confiscated FooPets over 4 months old will automatically get spayed and neutered after the owner's week retrieval period is over and will be available for re-adoption from any shelter visitor."
Oct 9, 2009



Ever wonder how much your love means to your FooPets? Now you can keep track of your care patterns with the new "Bonding Bar," visible just under the Hunger, Thirst, and Happiness bars.
The Bonding Bar measures the consistency of interaction between a FooPet and its owner. You must interact (feed, water, pet, or play) with a pet for 10 consecutive days to maximize the bar. When you have maximized the Bonding Bar for each of your FooPets, a Bonding Badge will be displayed on your member profile page, just under your picture.
Your Bonding Badge number will increment with each day of consistent care. Show off your dedication—you deserve it!
See more information about the Bonding Bar and Bonding Badge in our FAQs.
Dr. Ron's FooCare Tip
"Integrated chat is coming to FooPets.com next week! You will soon be able to communicate 'real-time' with your FooPet pals. This feature will also provide instant notifications on care from others, gifts received, friend requests, and friend confirmations. Stay tuned!"
Oct 13, 2009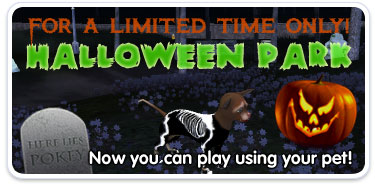 Go to Heart Park/no longer works

For a limited time only, Heart Park has transformed into a creepy landscape your FooPet will surely want to explore. Dress up and play Halloween Park with any of your FooPets… your pets can search for glowing candy corns and other lost and lonely treats. Can your FooPet collect them all before time runs out? Don't miss out… this ghoulish game will be gone after October 31st!
Dr. Ron's FooCare Tip
"If you have a black cat at home, keep him or her inside and safe the rest of October. Snopes.com outlines the long history of bad things that can happen to black cats around Halloween."
Nov 12, 2009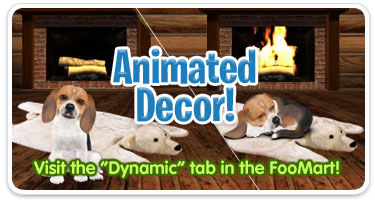 Go to the Mart

Now you and your FooPet can both enjoy a burning fireplace, leaves falling from a tree, snow drifting outside a window and more with our new animated Foomart items. Shop in the Dynamic section now.
Nov 25, 2009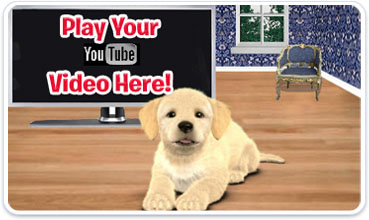 Now you can play YouTube videos right within your FooPet's scene. Load up to 10 videos at a time and tune in with your furry FooPet friend. Get your YouTube TV now.
A Special Gift for You!



To show our appreciation to you, we are gifting this stormy window. Accept your gift now. Add the window to your inventory. Then, use your scene decorator to place it into your FooPet's scene. Once there, click on it, watch what happens and enjoy!
As always, Thank You for being a part of our FooPets community.
Best regards,
FooCrew
Dr. Ron's FooCare Tip
"Check out the new YouTube TV in action here on my pet scene Silas the Cat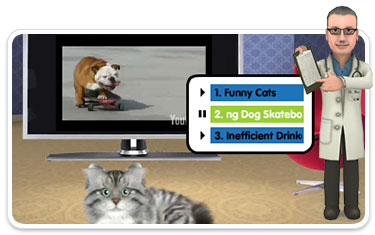 Dec 2, 2009
Dr. Ron's FooCare Tip
"Recently released breeds will no longer be available to new accounts in the initial adoption process. Going forward the only way to attain new FooPet breeds will be through the Featured Adoptions page or from breeder litters."
Dec 10, 2009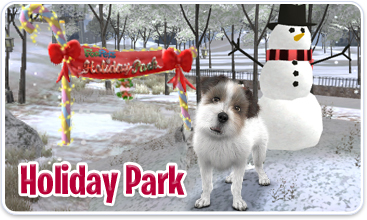 Take your FooPet on an adventure through Holiday Park – a winter wonderland of fun and surprises. Collect 20 gifts scattered throughout the park as fast as you can, then return to the main park where the biggest gift awaits. You can earn FooGems and FooKarma just by playing. Try it now.
Dr. Ron's FooCare Tip
"If you're a power FooPetter, you'll definitely want to take advantage of our Super Saver Club to get discount FooDollars and a special rare gift each month. For only $4.99, you'll get up to 200 FD each month! Check out the details here
Dec 16, 2009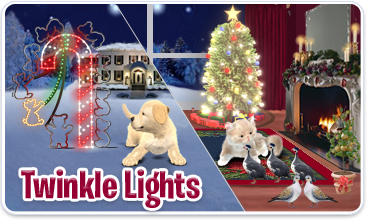 We have new, fun items that will surely excite your FooPets and get them in the mood for Christmas. Together, you can watch the lighted bear climb over the candy cane and a Christmas tree's lights twinkle while a moving train chugs along underneath. Get your Dynamic decorations now.
Dr. Ron's FooCare Tip
"You may notice our FooSamaritans being more proactive with neglected pets. FooSamaritans will be caring for pets that are not fed or watered after 36 hours. Warning notices will be sent to owners allowing email notifications. After three consecutive FooSamaritan interventions, pets will be repossessed and brought to the FooShelter's holding cell where it will be cared for until reclaimed. Owners have one week to reclaim their pet before the adoption opportunity is opened up to the community. Read more in our FAQs."
Dec 21, 2009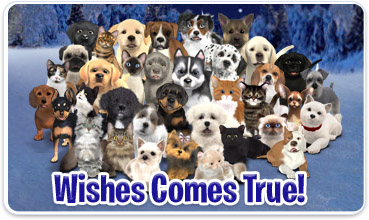 From now until Christmas day at midnight, all FooPets are 1/2 off the regular FooDollar price. Visit the FooPets bank and take advantage of this limited time offer. You can also print out this flier and let your family know that a brand new FooPet will make your holiday wishes come true.
Dr. Ron's FooCare Tip
"If you do not feed or water your pet within 15 days, the FooSamaritan may reclaim your pet. Please be sure to drop in to give your FooPet some love. Read more about our FooSamaritan's work."
Dr. Ron's FooCare Tip
"Did you know you can save all of your favorite decorated scenes and reuse them for any of your FooPets? Yes, your scenes are interchangeable. Go to your 'Scenes' tab located in your 'Profile' and next to the one you want to use, select the pet from the drop down menu on the right.
When creating your scenes in 'designer mode,' remember that only one item can be positioned at a time. If you're unsure of which item you are editing, check the name that appears in the 'decorator tools' text box. You can use the arrows to navigate to the next item."
Jan 13, 2010
Super Saver Club Update!



Club Members signed up before December 14, 2009 should have received 50 bonus FooDollars and this exclusive, Royal Jeweled Crown in your Profile's 'Inventory Tab.'
Super Saver Club members remember, you will receive 5 FooDollars for logging in and checking on your FooPet every day (that's around 150 FooDollars a month) in addition to your monthly bonus and exclusive, priceless gift.
Join our Super Saver Club or check out our FAQ for more information.
As always, Thank You for being a part of our FooPets community.
Best regards,
FooCrew
Dr. Ron's FooCare Tip
"Please be warned, trading decorative items is done at your own risk. Trading is not monitored or controlled by FooPets, but done between community members independent of FooPets. Therefore, we will not provide refunds or intervene if an unfair trade or broken agreement has occurred.
We do hope that our members operate in a fair and proper manner to other FooPet parents. Remember, treat each other with respect but be mindful – 'caveat emptor,' or 'let the buyer beware.' If it sounds too good to be true, it probably is."
Jan 27, 2010
Activity Feed – Make New Friends!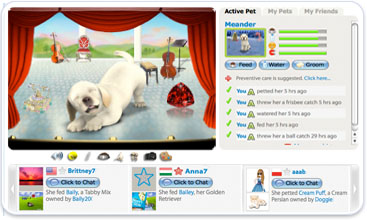 Did you know we have FooPets members all over the world? Now with our new Activity Feed scrolling every few seconds under the FooPets player on the 'Play' page, you can see other members' care actions, their country, and the pet they just visited. Click on the member or FooPet link to view their profile, then post a nice message on their board, engage in a live chat, or send a friend request!
Dr. Ron's FooCare Tip
"The Activity Feed randomly selects active members to display. If you absolutely do not want to appear in the feed, go to your 'Preference' tab in your 'Account' and turn off Public Chat – where it says 'Allow everyone to chat with me if I am online…' Remember, you can always block individual members as well."
Feb 3, 2010
Meet Fellow Gamers!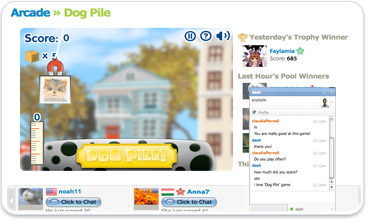 The Activity Feed has been added to the 'Arcade' games. Now you can see who else is playing, check out their scores and chat with them live! It's so easy to make new friends on FooPets.
Dr. Ron's FooCare Tip
"We've noticed some members creating "shelters" with their user accounts, taking in unwanted pets under the guise of "doing good," but then breeding the pets with the intention of making a profit. Please beware of such operations, and if you're one of the unethical operators, your account is at risk of suspension. Please treat other members, and their FooPets, the way you would want to be treated."
Feb 12, 2010
Sweetheart Spending Spree!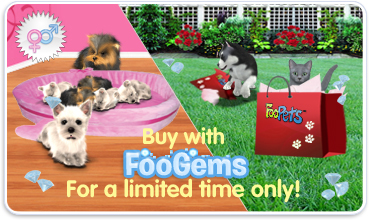 Starting on Valentine's Day – Sunday, February 14 through Sunday, February 28th at 11:59 p.m. (PST), all Featured and Shelter Pet Adoptions and Litter Licenses can be purchased with FooGems. Get ready for a massive FooGem spending spree and grow your FooPets family — just like you've been wanting. Please note, there are level-locked restrictions to this sale. Watch our Announcement Forum for further details.
FooPets Mini-Makeover
We have launched a mini-makeover to focus your attention on your achievements with FooPets.



Our new easy-to-read scoreboard tallies your FooDollar and FooGem rewards right before your very eyes. Your FooKarma points are now called StarPoints and a handy new thermometer keeps track of your achievements. Learn more about StarPoint levels on the FAQ's.



You can now adopt Pets right from your 'Play' page in the 'My Pets' tab. A new vertical menu in the FooMart makes your shopping experience easier. Breeding, Photos, Greetings and the Fooniverse can be found in the footer at the bottom of every page. Check out our new look!
Dr. Ron's FooCare Tip
"We have transformed FooKarma into a new, fun reward system called StarPoints! Don't worry: your Karma points are not being taken away, but rather renamed to fit a new design that will reward you more frequently for achieving higher levels. Higher levels unlock special, exclusive items for purchase. Remember, just like FooKarma, StarPoints can be deducted for returning pets, forum flags, etc. For more information, please refer to our FAQs."
Feb 17, 2010
Super Saver Club Update!



Super Saver Club members who signed up before February 6th 2010 are receiving this exclusive Jeweled Porcelain Box to display in their pet scene. Check when your next monthly allowance day is by clicking the Super Saver Club link in the right hand corner of your Profile. If you haven't joined yet, why not? You'll receive 5 FooDollars for every day that you log in, plus 50 FooDollars and an exclusive gift every 30-days! Join our Super Saver Club now.
As always, Thank You for being a part of our FooPets community.
Best regards,
FooCrew
Dr. Ron's FooCare Tip
"Our Activity Feed not only displays other member's recent pet care, but now includes arcade game scores and awards. It's yet another way to make new friends on FooPets.
We have also optimized the Activity Feed to make sure that it does not slow down your FooPets experience."
Mar 3, 2010
FooPets Has Gone Mobile!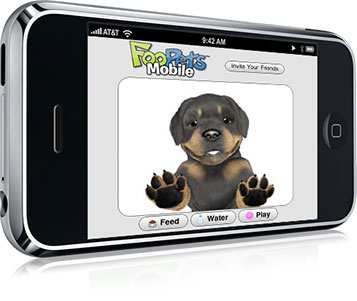 Now you can take your FooPets with you. Care for your FooPets anytime, anywhere right on your iPhone, iPod Touch, or on any mobile device you can access the web. This lightweight application is designed for quick, on-the-go care and links directly to your pet care history on Foopets.com. StarLevel and FooGem are awarded for remote care so give it a try by visiting m.foopets.com and tell us what you think!
Dr. Ron's FooCare Tip
"If enough members use our Mobile app at m.foopets.com on a regular basis and it proves popular, we'll build out more features and functionality while keeping it lightweight and fast. Be sure to give us feedback on this forum thread after you try it!"
Mar 24, 2010
FooPets Goes Widescreen!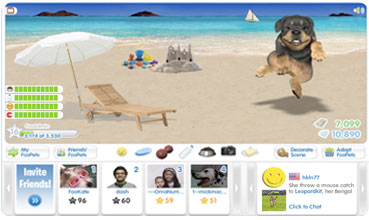 FooPets play area has nearly doubled in width! Now your FooPet has more room to explore, walk, and play. Grab your furry friend by the scruff of its neck and plop it down anywhere in the play frame. New panoramic backgrounds are available, regular sized backgrounds will still display. See up to 75 of your friends ranked by Star Level under the FooTube. You can play within the new widescreen under "Beta." (Please note, if you only see the Play tab, you have already been converted to widescreen.) Go wide now!
Dr. Ron's FooCare Tip
"To select which of your 75 friends show up under the FooTube, go to your "Friends" tab and check the box next to "Fave" under each person you want to add.
To see your pet's recent care activity, click on the calendar icon located in the top left corner of the widescreen play area. A pop up listing recent care will display."
Apr 1, 2010
FooPets on Spring Break!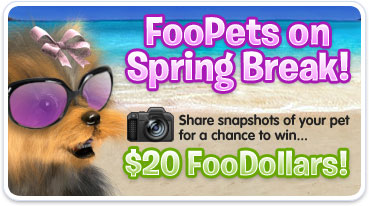 Get creative with your FooPet's scenes, snap some shots, and share them on Facebook, MySpace, Twitter, email and many other websites. 100 lucky winners will win 20 FooDollars and a special gift (after 10 Foto shares). It's fun, fast and easy! What are you waiting for? Sharing is caring!
Dr. Ron's FooCare Tip
"You can upgrade to another ClubFoo package without losing your start date (upgrading to a 6 or 12 month package rather than monthly). As your membership is canceled voluntarily, your plaque start date will be preserved and your 30 day gift plus FD bonus will occur on your original start date. New package options will not be visible until the old membership is canceled."
May 5, 2010
You're Always a Winner with Us!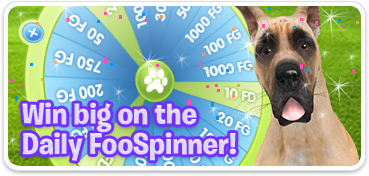 Try your luck with our new Daily FooSpinner. You can win FooGems or FooDollars each day. If you are already logged in today, your Daily FooSpinner will appear tomorrow. Otherwise, log in now and Spin to Win!
Dr. Ron's FooCare Tip
"The number of FooPets you are allowed to own is dependent on your StarPoint Level. The higher the level, the more FooPets you can adopt. See how many FooPets you can own based on your StarPoint Level here" If you are a ClubFoo member, you can adopt up to 50 FooPets, regardless of your StarPoint Level. Read more about the benefits of joining ClubFoo.
May 13, 2010
Dr. Ron's FooCare Tip
"Here is a quick reference of our adoption rules for newly released Featured FooPets:
ClubFoo members can immediately adopt newly released Featured FooPets Non-ClubFoo members can adopt new Featured FooPets 24 hours after their release Non-ClubFoo members must be at least a FooApprentice to own more than one pet. Check the FAQ for StarPoint Level allotments on pet ownership. Non-FooPets members can adopt new Featured FooPets 6 weeks after release All FooPets, including our latest, are available for purchase on FooGem Fridays (Featured pets are 300,000 FooGems and Shelter pets are 150,000 FooGems) It is possible that a newly released Featured FooPet will show up for sale in the Shelter, but highly unlikely. Another member will have to release their brand new pet to the shelter first.
May 20, 2010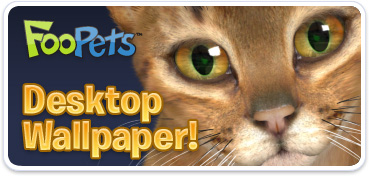 Go to the desktop wallpapers

To truly appreciate the intricate detail of our latest FooPet, we created a high-resolution Abyssinian wallpaper for your desktop. It's fun and it's free! You can add wallpaper to your desktop here. Stay tuned, more FooPets wallpapers are coming soon.
Dr. Ron's FooCare Tip
"To add FooPets wallpaper to your desktop, first check your monitor's screen resolution in your 'properties/settings' tab for PCs, or your 'System Preferences/Displays' for Macs.
Then, on our FooPets wallpaper page, click on the size that matches your monitor's resolution. A large wallpaper image will display in your browser. Right click on the image and select 'Set As Desktop Background' or 'Set As Wallpaper.'"
May 27, 2010
FooPets Marmaduke iPhone App!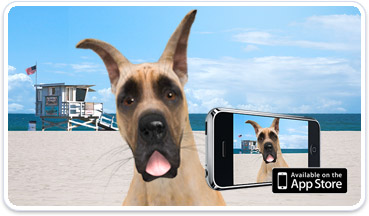 In partnership with Twentieth Century Fox Film, we have launched a special edition, "Marmaduke" themed Great Dane dog app for your iPhone or iPod touch for only $0.99 cents. This pocket pup links to your foopets.com account! Twentieth Century Fox Film's MARMADUKE is based on the famous cartoon created by Brad Anderson. This much anticipated blockbuster hits U.S. theaters on June 4th. Adopt this Hollywood hound from the iTunes Store now!
Dr. Ron's FooCare Tip
"Now you can access all of our fun mini-games and Fooniverse activities in one location. We've added the FooBoutique, FooFashion Show, Foto Studio, and Heart Park to the bottom of the 'Games' tab.
Sharpen your hand-eye coordination and play to win FooDollars or a trophy with 12 fun games in our FooPets arcade.
Explore the Fooniverse where your FooPet will love to prance on a catwalk with a new wardrobe, pose in a fashion photo shoot, or scamper through a park searching for hearts. Win FooGems or FooDollars if your pet is voted 'best dressed" in our FooFashion shows.
Play some games now!"
Jun 9, 2010
ClubFoo: It's for You!



ClubFoo members who signed up before June 10th, 2010 will be receiving this exclusive, ClubFoo Jukebox and 50 bonus FooDollars as part of their premium rewards. Not a member yet? Join today and receive special monthly gifts, daily FooDollars, and a whole lot more! You won't believe the benefits from joining ClubFoo! Read more about ClubFoo's rewards here.
As always, Thank You for being a part of our FooPets community.
Best regards,
FooCrew
Dr. Ron's FooCare Tip
"Interested in adopting a Shelter Pet? Now you can view a pet's personality profile right from the 'Adopt Me' page.
When buying from the shelter, be careful not to click away from the 'Adopt Me' page. Pets come and go quickly. You may not be able to find the same pet once you've navigated away from the adoption page.
To adopt a shelter pet, name your new pet, check the box to confirm you read the 'Adoption Rules,' and click on 'Complete Adoption.' Thinking of expanding your FooPets family? Go to the 'adopt' section and click on the Shelter tab."
Jun 17, 2010
FooRadio is LIVE!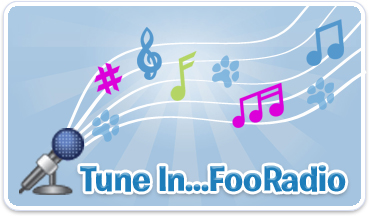 FooPets has inspired a grassroots, online radio station called FooRadio that is amplifying quickly into a popular listening channel with our community. The station was started by two FooPets members, Tibbers and ForestGrump who wanted to share their love of FooPets and passion for music in a fun public platform. Read about the station, how it got started and how you can be a part of it.


As always, Thank You for being a part of our FooPets community.
Best regards,
FooCrew
Jun 24, 2010
Attention Twihards!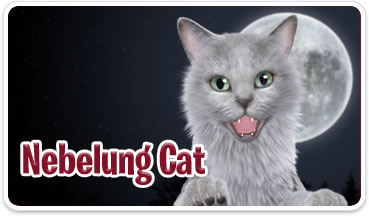 As the countdown continues for the much anticipated, Twilight Saga: Eclipse movie to be unleashed unto the world, FooPets has been burning the midnight oil to release a special edition, Vampire themed Nebelung cat. If you're a fan of Stephenie Meyer's books and blockbuster movie series as much as we are, you will be lured into this special, hypnotic new FooPet…fangs included! ClubFoo members, adopt your Nebelung Cat today. Open adoption for non-ClubFoo members starts tomorrow at 2 p.m.(PDT).
Dr. Ron's FooCare Tip
"To summon the Nebelung cat's vampire side, click on the tail when in standing position. If the cat is not standing, click the cat once for each of the following stages: sleep to lay, lay to sit, sit to stand, stand to vampire. Picking up your Nebelung cat by clicking and holding down the leg area will also release those fangs."
Jul 8, 2010
Dr. Ron's FooCare Tip
"You asked for it, we built it! Now there's a new message blocking feature that allows you to block any FooPets member from posting on your private message board.
Under each message that you receive on your message board you now have the option to block that user from additional posts. You can re-enable their right to post on your message board by un-blocking them through a link found on their profile."
NOTE: when you block a user from posting on your message board all of their previous posts are automatically deleted.
Jul 15, 2010
New Activities for Foo!


A new 'walk and clean up' feature is coming soon to FooPets! As you may know, pups like to relieve themselves during walks with their owners. Don't forget to clean up the messes they may leave behind during their outing.
Cats are a bit more tidy about their business. Your favorite feline will soon have a kitty litter box that will need daily scooping.
Cleaning up after FooPets will have its rewards…in FooGems! We'll share those details as soon as this new activity is made available to everyone. Just another way to love and care for your FooPet.
ClubFoo members can get a preview of this new walk and clean up feature, in Beta, by going here.
If you are not yet a ClubFoo member and want to test our new Beta features, become a ClubFoo member today.
Dr. Ron's FooCare Tip
"Going on vacation this Summer? Check your furry friend into the FooKennel. Your pet will be fed, watered, pet and played with every day you are away. Cost is 200 FooGems or 10 FooDollars per day.
To board your pets, go to your Profile tab and scroll down. Click on your pet's name to access your pet's profile. Click on the 'Board Pet' link. Select the number of days and your payment option and click 'Board.' Your FooPet will be safe, happy, healthy and eagerly waiting for your return."
Jul 22, 2010
What?…It Happens!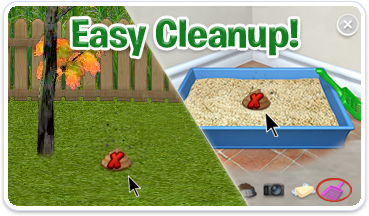 Introducing a new, fun easy way to earn FooGems while keeping your FooPet happy and healthy! You can now walk your dog. When nature calls, just click on the mess your dog makes and you're done!
Cats are a bit more tidy about their business. Your favorite feline will now go in a kitty litter box that needs regular cleaning.
Taking care of your FooPet's business in a timely manner earns you FooGems. Just another way to love and care for your FooPet. Read our FAQs about this new activity.
Dr. Ron's FooCare Tip
"Once you or someone else cleans up after your FooPet, your pet will not need to go again for several hours. If you want to make sure you receive the 25 FooGems on every clean up, you can restrict this activity within your Profile's preferences.
Just remember to stay on top of the duties or you may find some messy 'surprises' in your FooPet's decorative scene."

Jul 29, 2010
Help Wanted?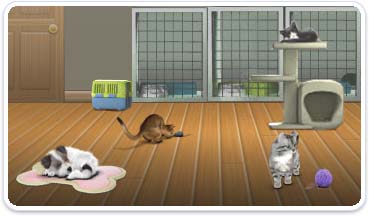 If you are traveling or temporarily unavailable, you can set up 'Automatic Care' services within your pet's profile. FooKennel boarding will feed, water pet and play with your FooPet every day. Service also includes fresh litter. Board your FooPet for only 200 FooGems or 2 FooDollars per day.
We also have an automated 'Cleanup Service' that will walk your dog, clean up messes left behind and scoop your kitty's litter box for only 100 FooGems or 1 FooDollar per day.
To schedule your FooKennel or Cleanup services, go to your Profile tab and scroll down to your pet's profile. Click on the 'Automated Services' link and select the number of days and payment preference. Read more about Automatic Care services in our FAQs.
Dr. Ron's FooCare Tip
"You can now change your user name as many times as you please! Use alphanumeric characters (A to Z and 0 to 9). Do not use spaces or special characters such as hyphens, exclamation points, etc.
To change your user name, go to your Profile tab and click on the 'edit profile' link."
Aug 5, 2010
More the Merrier!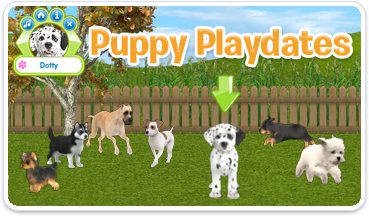 The new Walk and Clean Up activity is more fun than ever! Now you can walk multiple dogs at the same time — within the same scene. Clean up after all your precious puppies while they romp around together in our new walking park. You can even bring your friends' pups into the scene with proper FooParent permissions granted. Read more about our expanded walk and clean up activity.
InstaCare Improved!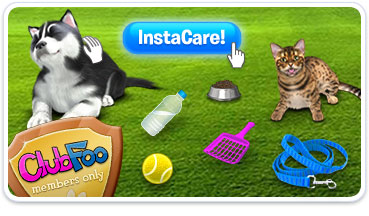 Good news for ClubFoo members! Walk and clean up activities have been added to InstaCare. With just a click of the InstaCare button, your pet will be fed, watered, pet, played with, walked and cleaned up after automatically. For each pet that you InstaCare, you also receive 25 FooGems. Not bad for such an easy effort! Read more about ClubFoo's benefits now.
Dr. Ron's FooCare Tip
"You can now use hyphens in your user name with two exceptions:
you cannot start your user name with a hyphen you cannot use two hyphens in a row
Use a hyphen between alphanumeric characters A to Z and 0 to 9, but do not use spaces or other special characters such as exclamation points, etc.
To change your user name, go to your Profile tab and click on the 'edit profile' link."
Sep 2, 2010
Dr. Ron's FooCare Tip
"Please be careful when posting images in forums and on your profile. Images you see on the Web may be copyright protected. By posting them on FooPets without permission from the artist, you are breaking copyright laws.
To ensure compliance, post only if you:
have received written permission from the owner to use the image on FooPets are in compliance with the source image's website licensing agreements (e.g. WikiCommons and public domain or image attribution regulations) post your own artwork and photos, as long as they are appropriate in nature
Those that post copyright images will be penalized. Penalties include but are not limited to: lowered StarLevel points, site suspension, and for more than one offense removal from our site.
We hope you understand the seriousness of copyright
Sep 23, 2010
Dr. Ron's FooCare Tip
"FooPets will be temporarily discontinuing the user artist program on FooPets to make room for future growth and site improvements. You may see some of residual user art appear in the FooMart but we will not be accepting new art for the time being. Please stay tuned to the newsletter for further updates. Thank you to everyone who created art for the FooMart. We truly appreciate your contributions and efforts."
Sep 30, 2010
Dr. Ron's FooCare Tip
"As many of you already know, images can no longer be embedded in Forum posts. It is unfortunate that we had to take such drastic action but copyright violations and other inappropriate images were being posted to the Forums. We apologize to all of our members who enjoyed this feature and we hope that you are able to enjoy all of the other ways to express yourself on FooPets."
Nov 4, 2010
Get Ready for Change!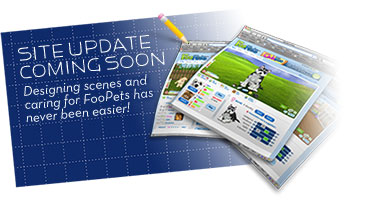 New features and changes to the FooPets site are coming soon. Improvements will be released in the next few days so check back often!
Dr. Ron's FooCare Tip
"If you want to breed your Pokey Pets, you'd better get started!
In a few days, we will prevent Pokey's from breeding. Because these pets are no longer supported for future features we will need to limit their propagation on the site.
Therefore if you want a Pokey litter, you will only have a limited amount of time to start breeding (don't worry, Pokey's that have initiated breeding before the cut off date will still produce offspring)."
November 5, 2010
LAST CHANCE TO BREED POKEY'S
Link to Announcement
November 9, 2010
New foopet's stats released.
Example here
Nov 11, 2010
Attention ClubFoo Artists!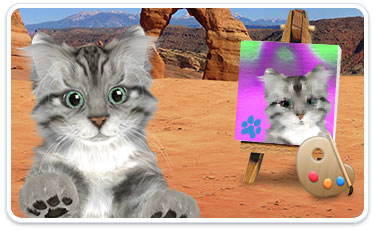 If you are a ClubFoo member be sure to check out the new Art Submission page (look for "Art Submission" in the "Explore" links at the bottom of the site). Aspiring artists and decorators can now submit creations directly to FooMojo for consideration in the FooMart. Approved submissions will be awarded!
It's your opportunity to test out an exciting new feature provided exclusively to our ClubFoo members for a limited time! Send us your best art!
Nov 24, 2010
Dr. Ron's FooCare Tip
"The user to user sales tax is going up today. Just like in the real world, adjustments have to be made to keep the virtual economy balanced. Additionally we have to increase the minimum user pet sale price to offset losses from pets not being purchased through the Adoption Center. Items that were already on sale previously will remain taxed at the original rate and pets that were placed on sale prior to the new minimum will remain at that price. In both instances, if you want to make more FooDollars just increase your prices accordingly!"
Dec 1, 2010
Dr. Ron's FooCare Tip
"Over the past few days we've seen some frustration due to the recent changes on our site. We understand that these changes may have disappointed people who grew accustomed to certain aspects of FooPets. However, these changes had to happen in order for us to grow as a business and to allow us to develop more exciting features (and fixes!) for the site.
At FooPets, we foster a community that rallies around responsible pet care and friendly social interaction. Some of our members have complained that they cannot make as much of a FooDollar profit selling pets and decor on the secondary market (through used decor sales and litter pet sales). While these features have recently undergone some changes they have not been entirely removed from the site. However, they were never meant to be the focus of the site and therefore we reserve the right to make adjustments to the way they work. The core objective of caring for a FooPet while sharing that experience with friends is what FooPets is all about and that is something that will never change.
Please help us to make FooPets a positive experience for all members. Users who have instigated rebellion or promoted the protest of site rules have not helped to make FooPets a fun and friendly experience. We will continue to listen to the core needs of our users but we will not tolerate anti-social behavior in any form. So please, be mindful of leaving constructive, not destructive feedback!"
Dec 8, 2010
Dr. Ron's FooCare Tip
"As a sign of good will we've decided to reduce the tax on used item sales. Instead of 50% the tax is now only 25% so go ahead and stock up on those rare items and set up shop on FooPets!"
Dec 29, 2010
Dr. Ron's FooCare Tip
"There has been a lot of talk in the forums regarding the fluctuation of pet personality stats.
For the sake of clarity, FooPet personality profiles are the stats that measure how a pet ranks within its breed. A 5/5 FooPet is a pet that currently registers as above average in every category (intelligence, obedience, bravery, agility and endurance).
Many FooPet owners are confused when their 5/5 pet 'suddenly' drops down to average rank. This happens when pets of the same breed are introduced with higher stats and therefore the breed average begins to shift. Most of this population influx is due to breeding high stat pets but some of it is due to pets introduced through the Adoption Center.
Over the last couple of weeks the featured pets coming out of the Adoption Center have been above average (many with 5/5 stats). Although we cannot prevent high stat pets from increasing the breed average we will try to keep featured pets within a fair range. Needless to say, if you see a pet with above average stats you can rest assured that it will be more valuable than most pets within its breed type (even if it eventually drops below 5/5!)."
Jan 6, 2011
Dr. Ron's FooCare Tip
"As you may already know, FooMojo, the company that developed FooPets has recently relocated its offices to San Francisco. Due to this transition we've been unable to release new pets or features during this time period.
Nonetheless, we have been working on new features – and most importantly, we've been resolving bugs throughout the site to make the experience safer, more stable and more fun!
In the upcoming months we expect to be back online pushing out these updates and releasing the new pets we've been working on so diligently.
Thank you for your patience!"
Jan 12, 2011
Dr. Ron's FooCare Tip
"So far we've received some really great artwork through our art submission but we are still seeing some common mistakes that prevent us from accepting the submissions. Here are some frequent issues:
1.) The art is copyright restricted. We cannot accept art unless it is created by the user or copyright free.
2.) The artwork is not the right size. Backgrounds should be 748×330 pixels and decor items should be around 400×400 pixels.
3.) The decor artwork is merged onto a background rather than cut out and isolated on transparency in a program like Photoshop then saved as a PNG.
4.) The decor artwork does not match the perspective of the scenes. Items need to look like they were photographed from a camera positioned on the ground. In other words, decor items should be facing the camera with little or no perspective lines.
Thank you all for your efforts, looking forward to seeing more great artwork! "
Feb 1, 2011
Dr. Ron's FooCare Tip
"Attention Parents: FooPets is introducing a new Parent's Dashboard!
When your child requests permission to access certain social features through the preferences link on their profile, you'll receive an email with instructions on how to create your Parent Dashboard.
We've heard your requests for more control of FooPets' social features for your children under 14 years old, and we are very excited to release this new feature! We welcome your feedback."
Mar 2, 2011
FooPets Announcement
Hey, FooPetters!
We wanted to remind how important it is to stay safe on the internet. Make sure you follow these simple rules to protect yourself and your FooPets.
1. Never give out personal information to others online.
2. Never share your password. Only your parent or guardian should have that information.
3. Feeling uncomfortable? Report your situation to Member Support at support@foopets.com.
4. Make sure your registration information is correct. We use this information to verify your identity and protect you from fraud.
Questions about safety? View our Privacy Policy at http://www.foopets.com/privacy.
Stay safe!
The FooPets Team
Mar 9, 2011
FooPets Announcement
Hey, FooPetters!
We hope you've noticed we've been posting in the forums a lot lately. We'll be doing so regularly to provide game updates and to request feedback from you! Stay tuned for some additional announcements this week.
P.S. We know you're still on RED ALERT for the new FooPet. It will be here VERY soon.
Thanks!
The FooPets Team
Mar 16, 2011
FooPets Announcement
Hey, FooPetters!
As you've likely already noticed, we've changed up the look and feel of the site. Here are some tips to access your favorite FooPets functions!
1) To access your Profile page, click your user name at the top center of the home page.
2) To access the Arcade, as well as Fooniverse applications, click the white "Games" link at the very bottom of each page.
3) Need to see your FooPets' care history? Click the "My FooPets" tab below the FooTube to see their meters.
If you have difficulty finding anything, feel free to contact us via Member Support!
Thanks!
The FooPets Team
Mar 23, 2011 (Goodbye Dr.Ron)
Introducing DrJane!
Hi, Foopetters!



Just wanted to take a moment to introduce myself! I'm DrJane, and I work here at FooPets. We're working hard over here to answer your questions and keep you up to date about the exciting changes we're making to FooPets. Stop by my profile page to say hello – I'm looking forward to meeting you!
Thanks!
DrJane
March, 25th 2011
Biggest Change Thread made By Cori on announcing no more user to user sale's!
April 7 2011 (I added, we never got told ahead of time)


Mass pet deletion of thousands of old pet's in adoption center.
EST 2AM.
Announcement in forums
April 7, 2011
FooPets will become subscription-only on April 26
Dear FooPetters -
As of April 26, all FooPets users will need to be subscribed to ClubFoo or ClubFoo Plus to access FooPets. We can assure you that this was a difficult decision for FooPets to make since every member of the FooPets community is important to us. We would love to continue offering FooPets as a free service, but unfortunately must switch to a strictly subscription model so that we can provide even better service and overall experience to all of our members.
We know that some of you have been caring for FooPets for over 2 years, and we thank you for your loyalty to this site. We are letting you know about this change now so that you have time to prepare, and we sincerely hope that you will continue to be a part of this community.
We've posted answers to some questions you may have on the FAQs http://www.foopets.com/faqs#join. We'll update this sticky post with answers to other questions that come up.
We've also updated the packages on the subscription info page to offer volume discounts on ClubFoo and ClubFoo Plus. https://www.foopets.com/club
Apr 13, 2011 (pay to play)
Jul 6, 2011 (There was a cap)
Tips from DrJane!
Hi FooPetters!
We've heard your feedback, and we're excited to announce that we've brought back user to user pet sales! For more information, visit the forum post here! Sales will be private if you'd like to sell a pet to a specific person, or vice versa. Enjoy!
Thanks!
DrJane
"Good news…we've brought back selling pets user to user!
You can now generate a "secret link" if you want to sell your pet to a specific person. Just go to your pet's profile, click "sell pet", and then you'll see an option to "generate secret url". You can then give this link to the person who you would like to own your pet. NOTE: The prices will remain the same as if the pet had been bought and sold from the Adoption Center.
Have fun, and only give a secret pet link to someone you trust!"
Aug 22, 2011
"Our apologies for the confusion everyone. We are currently revising the Rules of Conduct so that we can continue to make our community a fun and safe place for everyone. Here's a brief list of reminders about trading.
1. Users, trade at your own risk. You should always be prepared to take screenshots in the event that you might get scammed. As a reminder, we cannot intervene in transactions, and we cannot return anything lost in scamming. We can only identify and suspend scammers. So please be careful and be smart when trading. Go here for more details.
2. Trades on Meebo are allowed. However, you are not allowed to message a random person and offer them a trade. If you have a pet or item available for trade, you should use the Trading Post rather than randomly messaging people. Once a trade is organized in the Trading Post, you may carry on in Meebo.
3. You can offer/buy/trade a pet for more than the AC price. But be aware that this is being done at your own risk.
For any other questions, feel free to contact your ambassadors and admins."
The end 2008-2011
352-FooVille-Lane is ready to breed
with 1 litter license