Jesse
Send Free-Spirited-Wolves a breeding request
Jesse is a male Calico born May 18, 2010 and last adopted May 18, 2011.
He is 10 years and 0 months old.
Personality Profile for Jesse
Intelligence
60

106

147
Obedience
62

105

145
Bravery
57

119

145
Agility
58

106

145
Endurance
62

101

139

The majority of this page was made in 2011 so please excuse any spelling errors. – 2015 – ~Free <3
His Story:

~ One Foo morning, on May 18th, 2011 I was around in Chit Chat reading the forums. I was wondering what the people in Breeding were doing, so I then wondered into Breeding. So, I then found a thread where someone wanted a Male Calico. I then told them that Male Calicoes weren't on Foo. Someone said that some owner had one and posted a link. I then clicked the link and sure enough, it was a Male Calico.
~ I then quickly logged out of my account and went down to the picture of the Calico on the Home Page. I saw that they had a choice of 'Male and Female Calicoes'. I then borrowed my mom's credit card and made an account to buy Jesse. I was surprised to see his stats were 5/5. So, I looked to see how many Foo Dollars I had on that account. I had 50 Fds to buy another pet. Since you can't sell your last pet, I went to the play page and bought a random pet. I quickly logged out to go to my main account. When I logged on, I saw I had 50 Fds, I needed 50 more. I logged out again and went to my 2nd account (I had 3 accounts in total, not anymore though) and saw I had 100 FDs to spend. So, I went to the Foo Mart, bought an item for 100 Fds, sold it to my main account, and got 50 Fds in return. My other accounts are this (this is where I bought Jesse) and this.
~ After I had 100 Fds, I logged out, went to my 3rd account, and saved Jesse's link on my computer. I quickly sold him, and crossed my fingers that someone wouldn't buy him, and finally when I went to my main account and quickly bought him back. Sure enough, he will be mine forever.

How he is special:

~ Well, Jesse is a wonderful 5/5 Male Calico. Male Calicoes are super rare, even in Real Life. That's because genetic determination of some coat colors in cats is linked to the X chromosome, calicoes are nearly always female. Calico cats are almost always female because the X chromosome determines the color of the cat, and female cats—much like all female mammals—have two X chromosomes, whereas male mammals, including common male cats, only have one X and one Y chromosome. Since the Y chromosome does not have any color genes, there is no chance he could have both orange and non-orange together. (Sorry for the science lesson. xD) So anyway, Calico cats need their colors to be considered Calicoes, but males don't have enough chromosomes to make that happen.
~ Jesse may be a super rare 5/5 Male Calico, but he's not perfect. He has a glitch. That glitch, my friend, is that you can't see a scene on his play page. I know you must be thinking, "You just didn't save the scene, duh", But no, I did save it. It just won't stay on. If you'd take a second to stop reading, and go to Jesse's pictures and see how many scenes he's been through, you'd understand. I've contacted support, Admins, Ambassadors, even

USS

and they didn't help. So, I guess he just has to live with it.
~ Yes, I understand he might be your dream, but have you ever noticed how many people are searching for a Male Calico? I've counted over 30. Well, there are only 18 Male Calicoes on Foo. Do you really think everyone will get one? But I'm not trying to say that you should give up on your dream. No, keep your dream going, never give up, no matter how many days, weeks, months, or years it takes. Just do your best, and you never know, your dream might be in front of you.
~ Also, his stat total is 537 which is the second highest stat for Male Calicoes. But, Jesse knows he's perfect so he really doesn't care. Jesse loves me, his home, and his family.
Things people made for Jesse: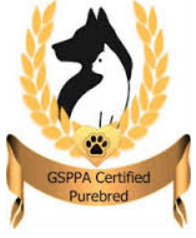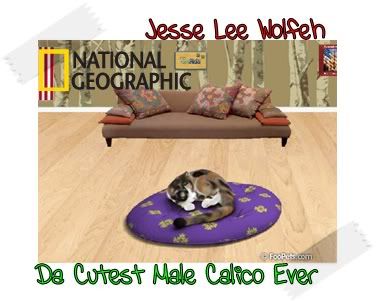 God Parents:
Dj-Felix-The-Ferret
Breeding Plans:
Jesse is no longer breeding because Foo is overpopulated by purebred calico kittens, and I do not want his offspring to end up homeless. Although, if you either convince me or people are in need of purebred Calicoes, then I will breed him. If you have any questions or concerns, please ask me.
If you send me a breeding request without asking me first, I will ignore it.

Ooh
List of male Calicoes
Male Calicoes in order

Please read his profile before asking to breed, thanks. <3
Owned by Free-Spirited-Wolves