Ish
Send Minyard03 a breeding request
Ish is a male Siamese born March 6, 2012 and last adopted June 5, 2013.
He is 8 years and 0 months old.
Personality Profile for Ish
Intelligence
62

108

157
Obedience
50

91

130
Bravery
45

44

139
Agility
73

135

168
Endurance
56

89

153
Well… It's looking like I've dodged the chaos and the mayhem long enough. My time out at sea is coming to an end. I'm short on supplies and this boat has seen better days. And you know what… This was bound to happen sooner or later. I guess it's time to go see what's left of mankind. What could possibly go wrong, right?
---
Ish is a character who is mentioned in The Last of Us. All that is known about him comes from a series of notes found by Joel during The Suburbs chapter of the game.
Ish is not physically encountered by Joel and Ellie during the events of the game. Given the presence of Clickers in the areas where these notes are discovered, it is likely that these events happened at least a year or so beforehand.
Ish was initially out to sea for several months before being forced to go ashore near the Pittsburgh sewer entrance. He took up residence inside, eventually constructing his own safehouse. In need of supplies, he searched the nearby suburbs, where he encountered a family, Susan, Kyle and their children, who – much to his surprise – did not shoot him on sight. They traded supplies with each other before Ish returned to his hideout. Ish, lonely and realising that there was no point surviving alone, then went back to the family to offer them refuge in the sewers. The group obliged, and the safehouse eventually became a thriving community.
At an unknown point in time, a door leading to the safehouse was left open by one of the group, which allowed a horde of infected to flood in. Ish, Susan, and a few of the children managed to escape, barricading the suburb-side entrance to the sewers. Kyle was separated from the group, where he became trapped in a room with a small group of children; the infected at the door.
While Ish is not seen in the game, it is possible to deduce his physical appearance based on details in certain notes. For one, Kyle notes that Ish is skinny when he first trades with them for food. Ish himself also states that he is agile and can sneak easily, explaining why he chose the sewers as a home. A drawing shows him in what appears to be police riot gear, similar to what the The Military currently wears, suggesting that he scavenged a uniform.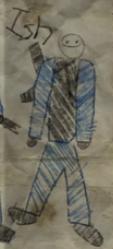 Owned by Minyard03