Ice Bear
Send Minyard03 a breeding request
Ice Bear is a male Shiba Inu born September 15, 2012 and last adopted September 15, 2012.
He is 7 years and 10 months old.
His mother is Amethyst , owned by Aoba
, and his father is Amazing'Jasper 613, owned by AdamParrish
, and his 4 siblings can be viewed on his family page
Personality Profile for Ice Bear
Intelligence
55

103

146
Obedience
57

112

144
Bravery
57

142

148
Agility
55

121

148
Endurance
58

107

141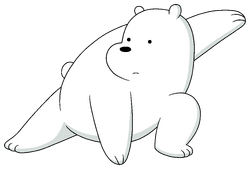 Ice Bear can come across as distant and emotionless. He seems to not be very conversant, as Ice Bear generally speaks in one-liners and responds through action instead. When Ice Bear does speak, he tends to speak in third person, such as referring his possessions as "Ice Bear's" possessions. It has also been shown that Ice Bear's voice is rather monotone, even when he is excited. Despite his stoic nature, he deeply cares for his brothers. In addition, Ice Bear appears to be very concerned with hygiene and cleanliness. Ice Bear can cook many foods. In particular, vegetarian food for Panda. He is a great cook. Ice Bear is a martial artist, wielding nun-chucks with great proficiency. He also owns ninja stars for protection. In "Our Stuff", he states that he bought them legally. Ice Bear can play the bagpipes, as seen in the episode "Jean Jacket". He is the tallest of the three siblings. Ice Bear is possibly multilingual, as he has been shown to speak phrases in Japanese and Russian. He can also communicate with birds, as shown in "Our Stuff". Crew members have confirmed Ice Bear to be the youngest of the bears. Ice Bear enjoys dancing. This is shown in the episode "Jean Jacket", when he gets a salsa dancing coupon. He said it was his best day of his life.
"Ice Bear will not bless you."
Owned by Minyard03