Aria Isadora
Send wishing-on-starz a breeding request
Aria Isadora is a female Black Lab Mix born August 24, 2014 and last adopted July 14, 2015.
She is 5 years and 9 months old.
'Cause two can keep a secret if one of them is dead.
2.5 ; 490 ; 66.1% ; Virgo
Chasing it tonight, doubts are running 'round her head. He's waiting, hides behind a cigarette. Heart is beating loud, she doesn't want it to stop. Moving too fast, moon is lighting up her skin. She's falling, doesn't even know it yet. Having no regrets is all that she really wants. We're only getting older baby and I've been thinking about it lately.
Aria is a very sweet, docile and gentle girl. She would break a fight before she ever made one. It's just not her type and anyone could tell you so just by looking at her.
She's known all around as one of the most beautiful girls to grace with her presence and boy does she know it. Aria is very modest though, making it near impossible to feel negative towards her. If you ever need anything she'll be there for you before you think to ask. She just….gets others on a deep level and can understand whatever it is that they're going through. She rarely gets mad and when she does, you can tell first-hand that you screwed up. Aria is definitely not a hot head by any means. She's not much of a social butterfly either. In fact, she mostly just keeps to herself and has the occasional outing with friends here or there. She gets overwhelmed in social settings for long periods. She just has no desire to be one of the party girls and I find that totally understandable because I'm not either. Books before boys am I rite. Of course I am. Well, time to move on!
Hey….my name is Aria. Forgive me, I'm just wary of new people. If you had to deal with A, you would understand me. Who's A?
Someone who's been terrorizing my friends and I for years and has never been caught. A knows things about my friends and I that we don't even like telling each other. Like the fact that my dad left my mom for one of his students. That's not exactly something you want spread around. And that's how A gets whatever he/she wants. Blackmail. Well, anyway. I'm sort of a hipster girl who loves odd things. I tend to pick things away from the trends. My music is beautiful to me and odd to others and that's okay, you know? I love art, any kind but pottery in particular….also watercolor.
I absolutely love both. They're my passion. When I'm not working on art, you can find me listening to music or reading. My other two passions. I'm also a vegetarian. I find meat horrific. No thank you! Anyway, I'm gonna go catch up on that book I've been reading. Bye!
One night I was browsing the breeding forum and I noticed a post about a member selling a Lost Black Lab they had received in a trade. This had been a long time dream of mine since it was part of two goals of mine (to own one of every breed of lostie on foo and one of every lost lab). Black labs had always been way out of my price range, though and I never had enough. But I had the means to raise the money for the auto so I spent about a day raising the money to 30k and then I found out that there was another member who might get her. I couldn't be at home all day so I was at work nervous but when I got back there was no news. Then I had to go somewhere else and when I came back her link was in my messages and I had a mini dance party before adopting her.
old profile
2/5 Lost Female Black Lab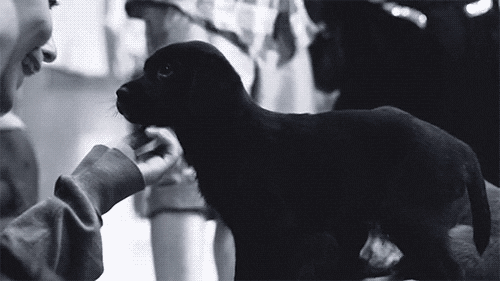 Finally completed my Lost Lab family… Daisy the Yellow Lab was brought home August 19, 2012. Fairy the Chocolate Lab was brought home March 28, 2013. Storm the Marley Lab was brought home June 6, 2013. And finally Aria the Black Lab was brought home on July 14, 2015.
Yes, she's named after Aria Montgomery from pretty little liars lmao
Owned by wishing-on-starz