Lady Maria
Send foxholequeen a breeding request
Lady Maria is a female Orange Mix born December 24, 2015 and last adopted December 24, 2015.
She is 4 years and 7 months old.
Her mother is Princess, owned by LordPhobos
, and her father is Firefly, owned by LordPhobos
, and her 3 siblings can be viewed on her family page
Lady Maria of the Astral Clock Tower is a Boss in Bloodborne The Old Hunters DLC. Upon being defeated, she drops the Celestial Dial.


A formidable Hunter in the past, now only a remnant in a bad dream formed from the warped and chaotic desires of the Hunters of the past.


According to both her equipment and her weapon, Lady Maria of the Astral Clocktower was a citizen of Cainhurst and is directly related to Queen Annalise. However, she was one of the first Hunters to join the nightly hunt, studying under Gehrman, The First Hunter. Despite being a citizen of Cainhurst, who relished in their extravagant uses of blood, she favored her Rakuyo, which required dexterity and skill rather than blood to wield effectively.


At an unknown point in time, Maria forfeited her beloved weapon, tossing it down a well when she could stomach it no longer, and disappeared mysteriously into the Hunter's Nightmare. Gehrman held a curious mania about her, even after she disappeared. The Doll was based on her, down to her facial features, yet sadly lacked her personality, leaving him bitter.


Now, Maria resides in the Astral Clocktower, looking after the disfigured patients that reside there, and guarding the "secret" of the Nightmare, the entrance to the Fishing Hamlet, where the Orphan of Kos can be found. She sits in a chair, seemingly lifeless until the Hunter tries to touch her.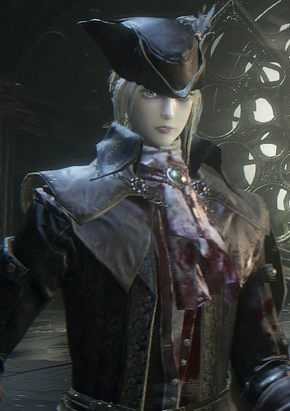 "A corpse… should be left well alone.
Oh, I know very well. How the secrets beckon so sweetly.
Only a honest death will cure you now.
Liberate you, from your wild curiosity."
Owned by foxholequeen