lucifer
Send dollboy a breeding request
lucifer is a male Himalayan born June 22, 2016 and last adopted November 19, 2019.
He is 3 years and 9 months old.
Personality Profile for lucifer
Intelligence
53

115

142
Obedience
28

85

120
Bravery
24

64

122
Agility
12

10

134
Endurance
27

64

118
-2 in Agility! (RARE)
Lucifer
First Generation
Lost by 2 in Agility
338 / 636 = 53.14%
2/5
Forever Home
Rehoming Pet
_____________________________________________________________________
When I first saw the pets in Sandy and Western's rehoming, Lucifer, who was then named Scarecrow, was in my top choices. There were SO many pets (20+) to apply for, I had the hardest time narrowing it down. I didn't want to apply for too many, because I wanted other members to have a good chance. I wanted to narrow it down to just 3. I knew for sure I wanted to apply for Moonlight the Marley and Eli really wanted Blue (previously Mummy) which I agreed on. After that, there was Ghost the white cat and Lucifer here. I ultimately decided to apply for Ghost, as I figured Lucifer (Scarecrow) was more rare, being lost in agility, and would have more people applying for him. I submitted my application for Ghost, Moonlight, and Mummy, and kept going about the rehoming, but I kept my eye on the little himalayan. After a week or so, I saw still nobody had applied for him. I was surprised, so I asked if I could do a sort of add-on to my application for Scarecrow. They said that is totally fine, and about a month later he is happily in my home, as I was the only one to apply for him :-) (and Ghost went home with my friend Vakreste ) I'm very glad to have him in my foo home; he will be a forever pet here <3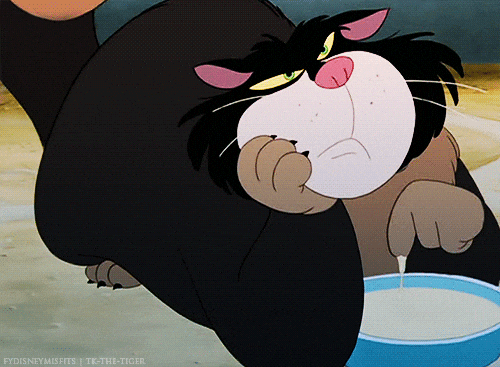 I love the movie Cinderella. I love classic Disney most of the time, but Cinderella is one of my favorites. It's not the princess that I care for, though, it's always the mice and Lucifer. I love watching their shenanigans, and the scene where Gus Gus keeps dropping his snacks and Lucifer sneaks up on him is my favorite part.
Lucifer has a purple neon theme, mixed with some fantasy and some spiritual concepts as well. And then there's his association to Cinderella. This makes for quite a unique theme, for quite a unique cat! This guy is lost by 2 in agility, making that stat sit at only a 10! I don't think I've even seen another pet with a lower stat. He ceratinly is special. He had his first (possibly only, we will see!) litter on Christmas Day 2019.
_____________________________________________________________________

| | previous | | next | | scene | | partner | |
Owned by dollboy