zachary.
Send myc_ a breeding request
zachary. is a male Orange Mix born November 12, 2017 and last adopted November 19, 2019.
He is 2 years and 0 months old.
. ..
LS Orange Mix

.
❝Love is like the wind, you can't see it but you can feel it.❞
♡ Cliche and over the top but it's fine. This sweet boy, Zachary is representing my love, David Zachary(first and middle name). This man has been my best friend for 3 years now, he has been my go to for anything that is bothering me, any drama, any family or friend issues I may have. He's there. We made things official on July 2nd 2019 and many of my friends and his said it was about time. Lol The title of a relationship just wasn't something either of us cared about.
The night we made it official will always be one of my favorite stories to tell. He has met my mother's side of the family and has been around them multiple times. But has never met my father or his side of the family(split family and moms opinion means more to me than my dads not that he didn't like him). And David asked "so what do I tell your dad and his family if they ask what we are?", I said "Well I just assumed we have been dating this entire time, what do you think?", and he says "okay deal" then says "This reminds me of the scene from Step Brothers where they say "did we just become best friends?"". I adore this man with everything part of me, he never ceases to amaze me. He is a full time student on top of working part time and being in the army. When I say this it is not an exaggeration, he is my best friend, my biggest supporter, and my hero. ♡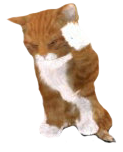 ♡ Zachary is a 1/5, 419/713, 58.7% with -2 in Obedience. He is unbred and will remain that way. I unfortunately was unable to determine his natural birthdate but I do believe it is possible that he was naturally aged. I was lucky to be Rehomed this boy here. I cannot thank Western and Sandy enough for allowing me to bring this boy into by home.
Owned by myc_