judge.
Send myc_ a breeding request
judge. is a male Chocolate Lab Mix born October 12, 2018 and last adopted October 12, 2019.
He is 1 year and 9 months old.
Personality Profile for judge.
Intelligence
55

106

144
Obedience
73

117

166
Bravery
52

104

143
Agility
57

56

142
Endurance
55

105

145
. ..
Rest easy old dude. You'll forever have a big piece of my heart. 10.10.19
LS Chocolate Lab

.
❝Dogs do speak, but only to those who know how to listen.❞
My sweet accident. ♡ December 4th 2017 will forever be a day I remember. I had decided to go donate 3 50lbs bags of dog food to the shelter I foster and volunteer for. The minute I walked in I hadn't even had time to unload the dog food yet one of the amazing owners grabbed me and said "just the girl I wanted to see, I was about to call you hun." She then continued to explain that there was a chocolate lab brought in who isn't quite a senior but is fairly old, roughly 6-7 years old with pretty bad arthritis. She went on to say that he was not coping well with being in the shelter environment and she thought I was just the foster he needed to get him out of his shell. He would do nothing but lay inside the kennel run and would refuse to pee or poop unless he was on grass. I immediately asked to see him and was instantly heartbroken and instantly attached. I said I would gladly take him and would do my best to make sure he was comfortable in my home. I took him into the yard at the shelter and he did not leave my side.

Once we left the shelter he jumped right in my car and was ready to go. At the time I only had Gabe and Silas and they both loved him so much. After getting him comfortable I realized he wasn't just going to be a foster and I was going to foster fail on this boy so hard. I called the shelter and told her and her exact words were "that was my goal". This boy had been abused and had his front teeth kicked out and was constantly locked in a crate or bathroom with a large bowl of dog food so he was extremely over weight. And with his arthritis I knew my first goal was to get this boy on a diet. The shelter had named him Bones but that was not the name his previous owners had given him, they just called him dog. So I decided to name him Judge, I really had no reason for it, it just felt right. The first few days I had with him was filled with taking him to the park to determine how socially nervous he got and taking him to the petstore to get a massive ortho bed and high quality dog food to help with his weight loss.


The next almost two years were filled with Judge smiles and extremely hard tail wags. I never once had to put a leash on him unless it was absolutely necessary. He would not leave my side. He was my massive cuddle bug, who was basically my own personal heating blanket. Lol I will forever cherish every moment I was able to get with him.

September 29th 2019.. Judge had a seizure.. It was late at night and it was a Friday night.. All the vets in town were closed and the closest ER vet was a 4 hour drive away. That night I spent the night sleeping on the floor waking up every 30 minutes with him. I called my vet as soon as they opened Saturday morning and she instantly got him in. We initially thought he had a minor stroke and it caused him to become epileptic. We started him on phenobarbital to help control the seizures. He was on a lower dose as we did not want to send him into shock and it helped for about two weeks. He then started having more seizures so we upped the dose of the medications and it made him comfortable but he was still not acting like my happy smiley hard tail wagging boy. October 6th 2019 he began acting as if his head was constantly hurting. It was the hardest thing listening to him cry periodically throughout the day because he was in pain. On October 8th he began refusing to eat. I added chicken broth and everything I could think of to get him to eat even just the smallest amount. But he still refused. He had an appointment with our vet scheduled for October 11th. On the 10th, he began refusing water. I called in an emergency with my vet and she confirmed what we had been worried about since he began have seizures even while on the medications. He had a brain tumor. He was in constant pain and did not know where he was at 90% of the day.


October 10th 2019, I had to say good bye to one of my best friends. I know I gave him the best life I could in his last almost two years but I cannot fight the feeling that I just did not have enough time with my sweet grandpa dog. I pray that he had a happy life and I have been fighting myself daily on if I actually did everything I could for him. But I know he was in pain and I know that he was tired. I hope he is showing off his janky smile to everyone he sees up there in the sky.
Keep an eye on Gabe, Silas, Violet, and Ellie for me my love and tell my grandma I said hi. You will forever have a massive piece of my heart. Thank you for the time you did give me. ♡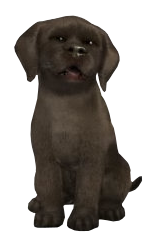 ♡ On foo, my sweet dude is a 3/5, 488/740, 65.9% male chocolate lab who is lost by 1 in Agility. Which is ironic because my RL boy was never very agile. Lol. He is unbred and naturally aged. I am thankfully to say I brought this boy home for 45fds on his birthday from an amazing friend and an even more incredible human being. Pent, you are truly a one of a kind soul that I am thankful I have met on this site even though we still do not know each other that well, I'm beyond grateful to now call you a friend.


---


You know I've been waiting to do this you goof. This is why I wanted your insta so I could give you this boy. I barley know you but from what I do you are pretty amazing I hope you know that. And I hope this boy brings you alot of joy like he has me. I'm here if you ever need to talk. Stay strong luv. You got this. Judge was a beautiful boy and you were an answer to his prayers. ~Pent/👖
Owned by myc_