ypsilanti
Send mollymauk a breeding request
ypsilanti is a male Portuguese Water Dog born February 1, 2019 and last adopted June 14, 2020.
He is 1 year and 6 months old.

⇠ previous | next ⇢

⁂ lost stat portuguese water dog | rehoming win | 7.2.19 ⁂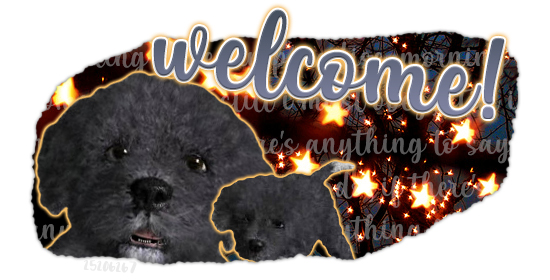 ♪ if you had a part of me, will you take your time ♪
hi! my name is ypsilanti. i'm a lost stat male portuguese water dog, and i was won by my mom, arine, in a rehoming held by western-puppy. although i'm not the greatest at learning new tricks, i'm very brave and can play outside for hours; mom says i can be a little too hyper, though! i love being out in the nighttime and seeing the stars, so when it's dark out, i have the most fun!
i like spending time with my siblings, especially cosy, webster, and cornelia. i'm trying to get us to make the fuzzy dog club together, but they're not super keen on the name. maybe they'll think of something else! i always love to cuddle with mom and honestly any human who comes near me, but my favorite activity is playing with squeaky toys. i have my own collection of squeaky soccer balls, and they're mine, webster, okay? not yours. in the late afternoons, i like to sunbathe with cosy by the window. want to get on my good side? my favorite kind of treat is sweet potato, but i'll honestly take any root veggie or berry just as happily.
♪ i did everything for you ♪
i brought ypsilanti home in a baseball-themed rehoming held by western-puppy— back then, he was named jersey. i fell in love with him right away and spent so many days playing with him and taking pictures of him. after making some graphics and working on the questions, i posted my application. in it, i spoke about my love of portuguese water dogs, and how i thought ypsilanti would be a lovely companion to cosy, who i soon transferred to my current account. i tried my best to stay active in the rehoming, and i was then lucky enough to make it to the top two! my friend dark-okami and i both made it, and i was super excited to create my task. i made ypsilanti this profile (complete with the song he's named after) and his scene. when western told me i'd won, i was so so happy. i couldn't believe i'd be the one bringing him home.
western's message:
Beaux, I know you are going to be the perfect home for Jersey. I read the captions of the photos you took, and honestly, I knew how bad you wanted him. And I've been there before too, where I kept playing with a pet and taking pictures, really wanting to bring him home. Though I didn't, even though I was completely bonded with the pet (and still am), I wanted to make sure the same thing didn't happen to you. It was a very hard choice, as I knew Dark wanted him too. But something just told me you. I knew Dark would be happy, and everyone would be happy too. Thank you for joining my rehoming, it was fun getting to know you. Enjoy Jersey (I'll tell Sandy to send him over to you whenever), and take good care of him. I know he'll be loved in your home.
♪ is there some idea to replace my life ♪
sufjan stevens is an american singer-songwriter who has released albums over the last 20 years; he also happens to be my favorite singer. i named ypsilanti after one of his songs, for the widows in paradise, for the fatherless in ypsilanti. according to sufjan, this song was inspired by a high school football game he played in. he said, "i noticed that there were all these single mothers and women and grandmothers in the stands, but there weren't any men, and so i had sort of devised a story in my mind that they had all died in the war, and that they were all widows." many of his songs are inspired by religions and the past, so another take on the song is that it spoke about a crusade— the song speaks of "a father to impress," perhaps indicating god, and then states, "even if i come back, even if i die," saying that the outcome of the war is more important than the narrator's individual life.

Owned by mollymauk