Cuddles
Cuddles is a male Pokey Yellow Lab born December 24, 2007 and last adopted December 19, 2009.
He is 12 years and 7 months old.
Personality Profile for Cuddles
Intelligence
36

74

130
Obedience
54

99

147
Bravery
51

109

143
Agility
42

111

140
Endurance
41

89

129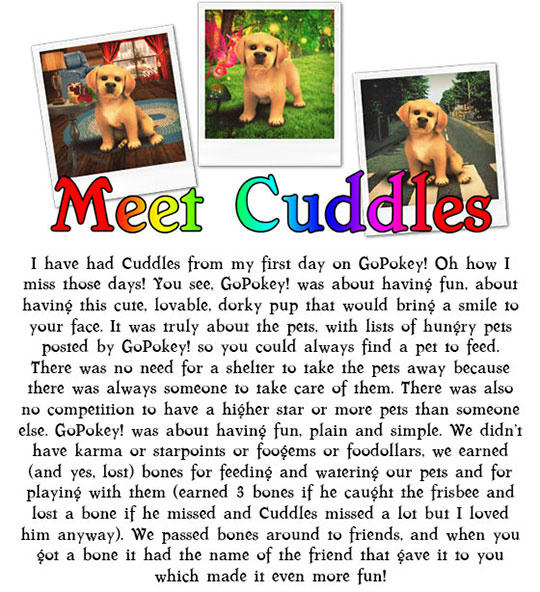 That is what Cuddles means to me – memories of times spent on Facebook chatting with friends, caring for each other's pets and just having fun!
I will never, ever, ever sell Cuddles because he is the embodiement of that wonderful time. I know a lot of new members want the Legacy Pokeys but I also know that they would never understand just how much this pixel pet means to me and if the time comes for me to quit, I know who his new owner will be (but I ain't telling so don't ask!).
Cuddles is and will always be the most precious of my pets (though I love them all). His daughters Analise and Myha will never be sold since I couldn't bring myself to separate them from their father. Now he is so proud to have a new son and daughter, Kebi and Kahotep, join the family. His son Sebastian is very happy in his home with my dear friend Tinkfreek999 and Cuddles visits him often.

This is from my wonderful friend
Owned by iLost