ExtraOddinary Ryan
ExtraOddinary Ryan is a neutered male Yellow Lab Mix born December 26, 2007 and last adopted December 12, 2014.
He is 12 years and 5 months old.
Personality Profile for ExtraOddinary Ryan
Intelligence
59

76

142
Obedience
78

86

166
Bravery
60

106

142
Bravery
60

93

142
Agility
55

85

140
Agility
55

105

140
Endurance
60

98

141
Endurance
60

92

141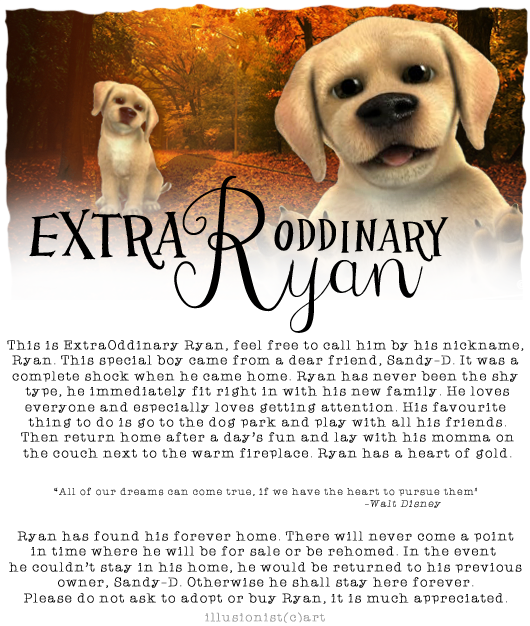 ---
I can't even begin to thank Sandy-D enough for this amazing boy! I am head over heals for Ryan! <3 He is never going to be for sale. Ever. Never ever. Don't ask!
---
My Goodbye Message To Ryan — Dear Ryan, This is such a bittersweet goodbye. I've loved you for a very long time now. Since the first day you came to live with me, Oct. 11, 2010, you've been a total joy to have here. Thank you for all the wonderful years of happiness and love. It's now time to let you go and to make a friend's dream come true. I know that you'll be happy with Jessica and your new home and I hope she will be just as happy with you as I've been. I'll miss you little guy. Take good care of my little boy, Jessica. He's very special to me. Love you Ryan! ♥ ~Sandy-D
---
2/8 Oddstat ~ 741/1154 = 64.21%
Almost Lost ~ 8 points from being Exact/9 points from being Lost in Obedience.
Owned by Dilly-Dally-