Enzo
Enzo is a neutered male Yellow Lab Mix born December 27, 2007 and last adopted January 10, 2020.
He is 12 years and 6 months old.
Personality Profile for Enzo
Intelligence
59

74

142
Obedience
78

77

166
Bravery
60

94

142
Agility
55

96

140
Endurance
60

78

141
Lorenzo "Enzo" St. John was a main character, minor antagonist, and anti-hero in The Vampire Diaries. He was formerly a major recurring character in the fifth season of the series, before being promoted to main in the sixth season. He was a vampire who was previously Damon Salvatore's cellmate in the 1950's, after being captured by the Augustines. He was first mentioned by Dr. Wes Maxfield, being dubbed as the "Augustine Vampire".
In the fifth season during Man on Fire, Enzo and Stefan get into an intense fight with one another. Enzo attempts to set Stefan on fire, but Stefan pushes his hand inside of Enzo, grabbing his heart. Stefan refuses to kill Enzo, but Enzo steps back and his heart is extracted. Enzo tells Stefan that his revenge will consist of Stefan explaining to Damon how he killed his best friend. Enzo later passes through Bonnie to the Other Side.
While on the Other Side, Enzo realizes that since Markos has emerged into the world of the living, that the dimension is falling apart. He tries his best to figure out how to get out of the Other Side, putting his trust in Bonnie. In Home, Markos is sucked away into Hell and Enzo successfully passes through Bonnie, returning to life.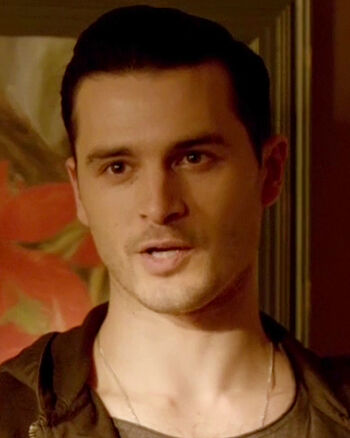 In the sixth season, Enzo begins a mission to save Damon and Bonnie from the prison world they are trapped in with the help of Caroline Forbes. He flirts with Caroline and also antagonizes Stefan for abandoning his search for Damon. After Damon's return, Enzo develops a jealousy towards Stefan and vows to make his life miserable. He forced Matt Donovan to assist him in doing so but later changes his mind when he begins to care about protecting Stefan's niece, Sarah Nelson. He later encounters Lily, the woman who turned him into a vampire and also happens to be Damon and Stefan's mother.
In the seventh season, Enzo allies himself with Lily and the Heretics, all because of his love for her. Eventually, he begins working for the Armory due to his interest in his past and later to find out what his family stands for. Enzo also hides Bonnie from the Armory as they need her to open a mysterious vault. He gives her pills to mute her magic and the two end up falling in love. Enzo is last seen running after Damon into a vault in the Armory when suddenly discolored, long-clawed hands grab his face and pull him backward out of view.
He and Damon are then put to servitude by Sybil and they bring her victims to feed off from. Enzo is freed from her control and he Bonnie begin spending time together. After they arrive at her house, Enzo overhears something about the cure. When Stefan uses the real estate agent, Karen, to sign the house over and invite him in, Enzo tries to get in, but to no avail.
Bonnie notices something wrong and she sees him fall to the ground, dead, with Stefan having extracted his heart out. After his death, Enzo is seen as a spirit to Bonnie after she created her own dimension and he helps her with her grief and anger towards Stefan for killing him. In a flash-forward, he is seen still with her as she begins to travel the world.
---
Personality
Enzo is a charismatic person who had lived quite a fulfilling life prior to his imprisonment by Augustine. Despite his imprisonment, he remained optimistic and hopeful to one day escape and possibly take revenge on Augustine for their torture on him. After it is revealed that he was still alive and imprisoned, Enzo seems to have become mentally unhinged as a result of the five decades of torture, as he slowly hums a song just after he introduces himself to Elena. He also showed immense anger towards Damon for being unable to save him, nevertheless after rekindling their friendship, he refused to abandon him when he turned into an Augustine Vampire.
He shows that he is loyal and would never abandon those important to him. He is also shown to have a vengeance streak as seen when he helps Damon with the Augustines, when he finds out Maggie was killed by Damon, and that the people who knew that he was dead didn't mention anything to Damon.
Enzo continues to show acts of loyalty to his friends, mainly Damon, looking for leads to find Damon, and punishing Stefan for giving up on Damon. Enzo clearly misses his friend and even kills Stefan's girlfriend for giving up on Damon, and for making his friend Caroline cry. Enzo is willing to do whatever possible for those he cares about.
---
How I got Lorenzo
Nursin was taking offers on this gorgeous boy. I wasn't going to offer until i realized he was 0/5 then i knew i had to try to take him home. I quickly offered and some amazing friends added to my offer, she later decided to put our names in a hat and pick from there. I was so nervous and then i was happy to hear my name was choosen not once but twice out of the hat. He was coming home.
He is never for sell im sorry i love him to much. Feel free to play with him though he loves company and attention. <3
---
Enzo Qoutes
"All those years, I kept a secret from the world. A shred of faith. See, I never believed that life…the universe, a higher power, whatever you want to call it, nothing…would allow me to suffer so much and then die…without knowing true love. It'd just be too cruel. And when I met you…my faith was rewarded." (Enzo to Bonnie.)
---
its been a pleasure having you in my home. ill miss you, but we both know where you really belong. :')
Owned by Dark-Okami