RLM V.E. Grams
RLM V.E. Grams is a female Pokey Chocolate Lab born June 9, 2008 and last adopted January 18, 2015.
She is 12 years and 1 month old.
V.E. Grams is named after my late paternal grandmother (Virginia Elizabeth), the most wonderful, kind, and caring woman that has ever inhabited the Earth.
Her birth date would have been my Grandmother's 71st birthday had she not have passed on the 7th of May that same year.
R.I.P. Grandma, June 9th, 1937 – May 7th, 2008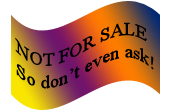 Owned by Bohemian-Melodies