Simba
Simba is a male Pokey Yellow Lab born December 19, 2007 and last adopted May 17, 2020.
He is 12 years and 7 months old.
Personality Profile for Simba
Intelligence
36

64

130
Obedience
54

106

147
Bravery
51

93

143
Agility
42

92

140
Endurance
41

79

129
Simba || Traveller; wanderer || 5 Digit Pokey Yellow Labrador

He represents Simba from the Lion King. Growing up I watched Lion King many a times and Simba soon grew to be my favorite lion. I watched the movie so much I drove my parents insane with it. My mom would always tell me we had plenty of other disney movies but I would always pick Lion King without fail.
All the animals in the Pride Lands gather at the foot of Pride Rock to commemorate the birth of Simba, who will eventually succeed to the throne and take his father Mufasa's place as king. Furious by the fact that he is no longer next in line, Simba's jealous uncle Scar refuses to attend the ceremony. While Simba grows into a rambunctious lion cub who frequently boasts about the fact that he will someday rule over the Pride Lands, Scar secretly plots against him.
Scar plots regicide and familicide against Simba and Mufasa by luring Simba into a vast gorge, where he triggers a wildebeest stampede. Notified by Scar that Simba is in danger, Mufasa rushes to his aid and manages to place him safely on a ledge. Weakened and unable to pull himself up the steep slope to safety, Mufasa asks his brother for assistance. However, Scar's true nature is revealed and he betrays Mufasa, throwing him into the gorge where he is killed by the fall.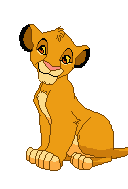 Convinced by Scar that he is responsible for his father's death, Simba runs away to a distant jungle where he is befriended by Timon and Pumbaa, who teach him to ignore his past and avoid his responsibilities. There, he grows into a handsome young lion, while Scar wreaks havoc on the Pride Lands. When Simba is discovered by his childhood friend named Nala, she confronts him, warning him of Scar's tyranny and begging him to return home. Afraid of facing his past, Simba refuses until a wise mandrill named Rafiki leads him to Mufasa's ghost, who convinces him to return home and reclaim his kingdom from Scar.
Simba returns to the Pride Lands and finds them barren because their natural resources have been squandered and abused by Scar. After witnessing Scar strike his mother Sarabi, Simba orders Scar to resign. At first thrown by the fact that he is alive, Scar soon regains composure and forces Simba to reveal that he is responsible for Mufasa's death, while cornering him at the edge of Pride Rock, hoping to subject him to a similar fate as his father. Having grown overconfident, Scar finally reveals to Simba that he killed Mufasa. Furious, Simba tackles Scar and forces him into announcing this to the pride, initiating a battle between Simba's pride of lionesses, Timon, Pumbaa and Scar's army of hyenas. Simba eventually defeats Scar and throws him into a pit, where he is cornered and killed by the hyenas, who overheard Scar blame them for what he'd done. Simba then takes his rightful place as king. When the kingdom returns to its former glory, the animals welcome the birth of King Simba and Queen Nala's first born.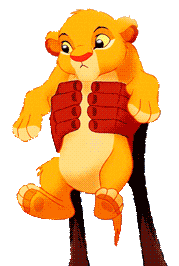 Owned by Dark-Okami