Ailia
Send xosweetbloodox a breeding request
Ailia is a female Tuxedo Mix born September 12, 2009 and last adopted December 14, 2009.
She is 10 years and 6 months old.
Her mother is Angel, owned by Diamondclaw-
, and her father is Furry, owned by Diamondclaw-
, and her 4 siblings can be viewed on her family page
Personality Profile for Ailia
Intelligence
53

89

146
Obedience
24

69

119
Bravery
23

61

124
Agility
76

117

167
Endurance
57

106

142
Tatters Raccoon came from a neglectful home where she fell to the shelter with her brother Panda formerly called Scrap. While he went and found a home where he is now loved and cared for, And she will have a forever home with Me!
Ailia is such a loving little girl. From a hard time of being neglected she sure has warmed up to me. I named her Ailia because she lights up my life, and because iím sure anyone who she comes into contact with will have there day brighten up a little more. She fits right in with our family. Dont tell the dogs she is a cat.. Cuz they treat her like a little pup. lol. I think Benji found a new friend chewing and tearing up things. lol.
The meaning of the name Ailia is Light it comes from the Irish origin
Because she is unfixed, Ailia cannot be bred for a month past adoption.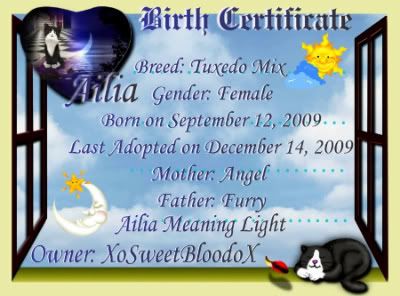 A Raccoon Cat Adoptions Pet!
Owned by xosweetbloodox