Rosco
Send LuvSunnyDaz a breeding request
Rosco is a male Rottweiler born January 16, 2010 and last adopted March 13, 2010.
He is 10 years and 4 months old.
Personality Profile for Rosco
Intelligence
43

104

145
Obedience
43

101

140
Bravery
72

125

176
Agility
36

80

129
Endurance
42

103

137
Rosco's a happy little boy and not very good on his feet. Have you ever seen anyone fall down so much? He's so funny!
He would like you to stop to play. He loves to be outdoors getting lots of exercise.
---
He is my first FooPet and in his original background in the original size. The monarch butterfly was added when I earned enough fg to buy something for his sceen.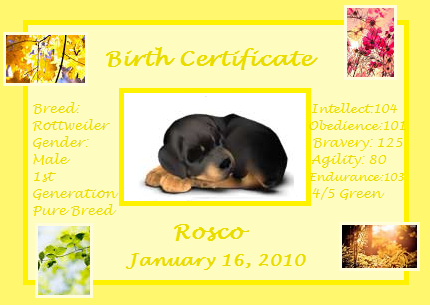 Owned by LuvSunnyDaz